Turning Point: Picking Up the Pieces after Eight Years of Failed Progressive Policies (Hardcover)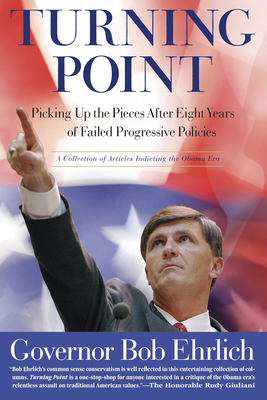 $27.95

Special Order - Subject to Availability
Description
---
Each political cycle, candidates vying for public office warn that the upcoming election is the most important event of the millennium.  For many whose names appear on a ballot, the statement is at least partially accurate:  their political future rides on the outcome.  The rest of us take such forebodings with a grain of salt.  After all, how much damage can a single candidate (even a president) inflict given our time tested system of checks and balances? 

Turning Point makes the case for "plenty"; Barack Obama's transformative agenda has indeed remade America – to the detriment of our economy and culture. 

In his third book, Governor Robert L. Ehrlich details the considerable damage inflicted to date, while analyzing how progressive policy has made America a far more insecure and weaker country. 

Culled from published opinion pieces authored by the Governor  over the last eight years, Turning Point is a concise, articulate indictment of Western European style progressivism brought to America by its most charismatic (and dangerous) salesman. 

The presidential election of 2016 is a pivotal one.  As such, Ehrlich asks whether Obama's agenda is indeed America's future.  In other words, has the cumulative impact of progressivism reached the point of no return – or – will the next election cycle be a turning point for the return of common sense conservatism?

Those of you who subscribe to the former point of view will appreciate Turning Point's conclusions, if not the accompanying analysis, while readers belonging to the loyal opposition will find plenty of material to keep them up at night.  Regardless of which side of the political spectrum you may identify with, however, all will find Governor Ehrlich's new book an enlightening, if not entertaining read.  Enjoy…
About the Author
---
The Honorable Robert L. Ehrlich, Jr. is senior counsel in the Government Advocacy and Public Policy Practice Group at King & Spalding. He advises clients on a broad spectrum of policy matters and their interactions with the federal government. Having served as governor, U.S. congressman, state legislator, and civil litigator, he counsels clients on government matters, with particular expertise in health care, finance and economic development.

As Maryland's first Republican governor in 36 years when elected in 2002, he improved Maryland's fiscal condition by turning $4 billion in inherited budget deficits into $2.3 billion in surpluses. His pro growth economic policies helped create 100,000 new private sector jobs. He is an advocate for Maryland's world renowned technology economy, enacting policies that positioned Maryland as a national leader in education, biotechnology, health care, and minority business advancement. He made record investments in public schools and authored Maryland's first public charter schools law, enabling more than 7,000 students to attend 30 new public charter schools. He doubled funding for need-based college scholarships, helping college enrollment reach an all-time high.

Governor Ehrlich earned national commendation for empowering individuals with disabilities. He created the nation's first cabinet-level department of disabilities, for which he earned the "Highest Recognition Award" from the U.S. Secretary of Health and Human Services, among other awards.

Prior to serving as governor, Congressman Ehrlich won four terms in the U.S. House of Representatives. In Congress, he served as a member of the House majority whip team, wherein he helped pass comprehensive tax relief, greater access to health care, federal education reform, and the first balanced budget in a generation.
Praise For…
---
"According to Ehrlich (America: Hope for Change), former Republican Governor of Maryland, the presidency of Barack Obama has been detrimental to the economy and foreign policy of the United States—not to mention race relations, family structure, health care, and many other aspects of American life. That is the pessimistic premise of this collection of weekly Baltimore Sun and Washington Post columns spanning President Obama's term in office. They chronicle such noteworthy moments as the optimistic period following the 2012 presidential election, the Supreme Court decision on the Affordable Care Act, and the barbs and mudslinging of the 2012 election and its aftermath. The author captures, in honest, albeit alarmed, fashion, one conservative American's impressions of living under a progressive presidency. However, he never loses his sense of humor, concluding with satirical "what-if" pieces, including an article detailing a news day in an alternate-universe America with President Mitt Romney and an Obama diary entry revealing the "truth" behind the Benghazi terrorist attack. This comprehensive collection will be a necessary read for right-leaning audiences as 2015 begets 2016 and election season gets into full swing." — Publishers Weekly