The Smartest Guys in the Room: The Amazing Rise and Scandalous Fall of Enron (Paperback)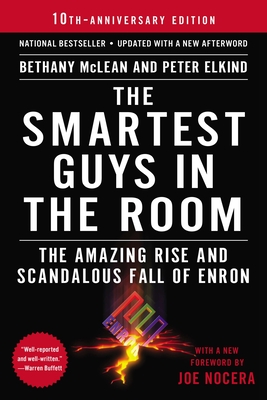 $21.00

Not Available In-Store - Usually Ships from Warehouse in 1-5 Days
Staff Reviews
---
It may seem odd to write a recommendation for a 13 year old book that covers a 16 year old financial disaster, but Enron is a special case. Much like the Columbine shooting, Enron is subject to persistent myths that shape how the public views the disaster even today. Enron's fall was not the product of the two mustache twirling villains, Jeff Skilling and Andy Fastow, tying investors to the tracks until they get hit by the train. It is a much more complex tale of market greed and inflated expectations, lax regulation and ethical lapses. The Smartest Guys in the Room presents a the tale in a way that lays (no pun intended) bare the complex and disturbing truth of what happens when corporations game the system, the market rewards them, and the government won't stop them. A cautionary tale for our times.
—
Nicolas
Description
---
The tenth-anniversary edition of the definitive account of the Enron scandal, updated with a new chapter
 
The Enron scandal brought down one of the most admired companies of the 1990s. Countless books and articles were written about it, but only The Smartest Guys in the Room holds up a decade later as the definitive narrative. For this tenth anniversary edition, McLean and Elkind have revisited the fall of Enron and its aftermath, in a new chapter that asks why Enron still matters. They also reveal the fates of the key players in the scandal.
About the Author
---
Bethany McLean and Peter Elkind collaborated on this book when they both were Fortune senior writers. McLean, a former investment banking analyst for Goldman Sachs, is now a contributing editor to Vanity Fair and lives in Chicago. Elkind, an award-winning investigative reporter, is now an editor-at-large for Fortune and lives in Fort Worth, Texas.
Praise For…
---
"The best book about the Enron debacle to date."
—BusinessWeek
 
"The authors write with power and finesse. Their prose is effortless, like a sprinter floating down the track."
—USA Today
 
"Well-reported and well-written."
—Warren Buffett