All New Square Foot Gardening, Second Edition: The Revolutionary Way to Grow More In Less Space (Paperback)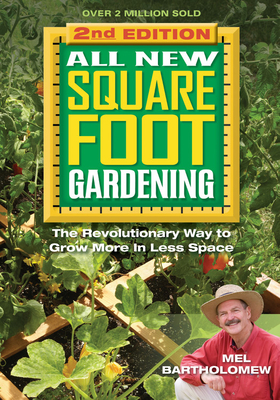 Other Books in Series
This is book number 4 in the All New Square Foot Gardening series.
Description
---
Square Foot Gardening is the most practical, foolproof way to grow a home garden, whether you're growing an urban garden, or have an entire backyard. 

That explains why author and gardening innovator Mel Bartholomew has sold more than two million books teaching how to become a successful DIY square foot gardener. Mel developed his techniques back in the early 1980s and has been teaching them around the world ever since. In the process, he has made improvements and refinements, and has continually adapted his practices to keep pace with modern times.

In this second edition, Bartholomew furthers his discussion on one of the most popular gardening trends today: vertical gardening. He also explains how you can make gardening fun for kids by teaching them the square foot method. Rich with new, full-color images and updated tips for selecting materials, this highly produced edition will bring you up to speed with Mel's industry-changing insights.
About the Author
---
Mel Bartholomew was the founder and inventor of the Square Foot Gardening method and the author of All New Square Foot Gardening, the best-selling gardening book in America for a generation. The guide has sold 2.5 million copies since Bartholomew wrote the book in 1981. He hosted a PBS TV show for five years, and then was telecast for three more years on the Learning Channel and Discovery Network. Bartholomew presided over the nonprofit Square Foot Gardening Foundation, which encourages every household around the world to have a small garden and eat fresh, healthy vegetables that are uncontaminated. He passed away in May, 2016.
Praise For…
---
STARRED REVIEW This classic reference is updated for beginner and expert gardeners alike on evaluating space, creating a soil mix, vertical gardening, and controlling pests. — Library Journal, Collection Development February 2014
—
-