The Guide to Humane Critter Control: Natural, Nontoxic Pest Solutions to Protect Your Yard and Garden (Paperback)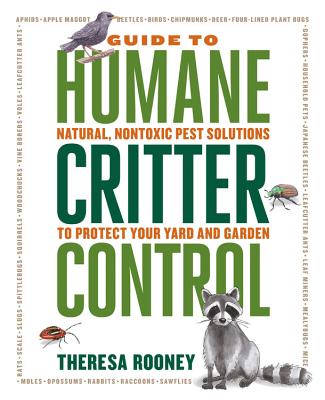 $19.99
Email or call for price.
Description
---
Keep critters and pests out of your yard and garden with heart! The Guide to Humane Critter Control keeps unwanted guests away safely and organically.

It takes a lot of work and a fair amount of money to grow a garden, and a top fear of every gardener is having their investment wiped out by deer, rabbits, and insect invaders. The Guide to Humane Critter Control is filled with clever ways to be proactive and stop pests from feasting on the bounty you've been working on all season.

The Guide to Humane Critter Control shows many ways to incorporate protective barriers without ruining your sight lines, outsmart the invaders using insect behavior, use scent to your advantage, and more. With methods and products that are not only kind to wildlife and insects but also healthier for children and pets, this is the blueprint for creating a safe backyard for play, beauty, and healthy fresh-grown foods.
About the Author
---
Theresa Rooney is a self-taught, life-long gardener. She is a Master Gardener and has turned her small urban yard into a Certified National Wildlife Habitat and home to an increasing number of welcome and unwelcome critters. She has written articles for Minnesota Gardener Magazine and teaches gardening classes.
Praise For…
---
This informative, sensible, practical and compassionate book should be read by all gardeners, every home and property owner and garden supply stores and centers should have a stack for sale. —Dr. Fox Animal Doctor -Andrews McMeel Universal syndicate.

Rooney explores all of these and other techniques in helpful detail, together with safety advice on managing garden-visiting cats and dogs.—Texas Gardener Magazine's Seeds

I think this book would be a fun gift for parents and grandparents to read together with younger children, who will enjoy the illustrations. Not only will this book get them started down the path to a more holistic view of the world, but also answer some perennially puzzling questions such as, "What are those squiggly white lines on that plant's leaves?"
 —Gardening Products Review