Wildflowers of Arizona & New Mexico: Your Way to Easily Identify Wildflowers (Adventure Quick Guides) (Spiral)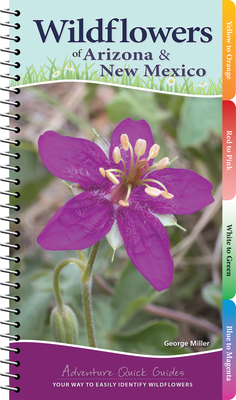 Description
---
Only Arizona & New Mexico Wildflowers Organized by color for quick and easy identification.
Simple and convenient--narrow your choices by color and leaf attachment, and view just a few wildflowers at a time.
Pocket-size format--easier than laminated foldouts
Professional photos of flowers in bloom
Similar colors grouped together to ensure that you quickly find what you're looking for
Leaf icons for comparison and identification
Easy-to-use information for even casual observers
Expert author who is a longtime botanist and a skilled nature photographer
About the Author
---
Long-time botanist and nature photographer George Oxford Miller is a lifelong resident of the West. He has lived in New Mexico, Arizona, and Texas, and currently is president of the Albuquerque chapter of the Native Plant Society of New Mexico. He received a master's degree in zoology and botany from the University of Texas, Austin, and has written six guidebooks to the Southwest, including the best seller "Landscaping with Native Plants of the Southwest," five other Wildflower Quick Guides, and a "Plant of the Month" column in "New Mexico Magazine."