Dr. Mutter's Marvels: A True Tale of Intrigue and Innovation at the Dawn of Modern Medicine (Paperback)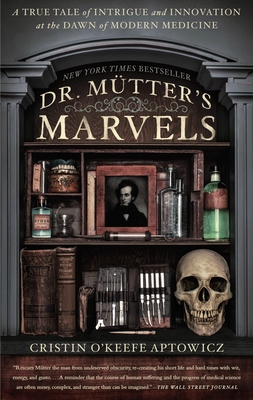 $17.00

Not Available In-Store - Usually Ships from Warehouse in 1-5 Days
Staff Reviews
---
Dr. Mutter was one of the most celebrated surgeons of his time. His story was lost in history until now with this detailed and amazing book about a man in the pre Civil War times who fell in love with helping people and teaching others the science of surgery. I really enjoyed this book for many reasons and I think the best part was learning about how the medical profession at the time viewed things we take for granted now like anesthesia, germs and the importance of bedside manner. Through Dr. Mutter's life story we learn about the start of plastic surgery and his journey with helping people who felt like monsters. I love a good non-fiction story like this that reads like fiction and it gave me a great appreciation for where modern medicine has come from.
— JESS
Honestly, it's always been easy for me to put down biographies -- if I get a good overview of a person, I'm good. However, Cristin O'Keefe Aptowicz paints a wonderful, addicting story of Dr. Thomas Mütter, the famous 19th century surgeon who took the medical field by storm. Her passion in thoroughly researching Mütter's tale is evident as she takes the reader on a journey of medical innovation. Perhaps the strongest aspect of Dr. Mütter is his obvious compassion for patients that would have otherwise been considered monsters. So, be prepared to learn about the intriguing, unusual, and surprisingly heartfelt story behind Dr. Mütters Marvels.
—
Becky
Description
---
A mesmerizing biography of the brilliant and eccentric medical innovator who revolutionized American surgery and founded the country's most famous museum of medical oddities
 
Imagine undergoing an operation without anesthesia, performed by a surgeon who refuses to sterilize his tools—or even wash his hands. This was the world of medicine when Thomas Dent Mütter began his trailblazing career as a plastic surgeon in Philadelphia during the mid-nineteenth century.

Although he died at just forty-eight, Mütter was an audacious medical innovator who pioneered the use of ether as anesthesia, the sterilization of surgical tools, and a compassion-based vision for helping the severely deformed, which clashed spectacularly with the sentiments of his time. Brilliant, outspoken, and brazenly handsome, Mütter was flamboyant in every aspect of his life. He wore pink silk suits to perform surgery, added an umlaut to his last name just because he could, and amassed an immense collection of medical oddities that would later form the basis of Philadelphia's renowned Mütter Museum.

Award-winning writer Cristin O'Keefe Aptowicz vividly chronicles how Mütter's efforts helped establish Philadelphia as a global mecca for medical innovation—despite intense resistance from his numerous rivals. (Foremost among them: Charles D. Meigs, an influential obstetrician who loathed Mütter's "overly modern" medical opinions.) In the narrative spirit of The Devil in the White City, Dr. Mütter's Marvels interweaves an eye-opening portrait of nineteenth-century medicine with the riveting biography of a man once described as the "[P. T.] Barnum of the surgery room."
About the Author
---
Cristin O'Keefe Aptowicz is an award-winning writer of Words in Your Face: A Guided Tour Through Twenty Years of the New York City Poetry Slam and popular touring poet and spoken-word performer. She lives in Austin, Texas.
Praise For…
---
"[Aptowicz's] poetic eye is exactly what makes Dr. Mütter's Marvels a marvel itself. . . . With clinical precision, Aptowicz lays bare the facts of Mütter's colorful, tumultuous life. . . . For a book so immersed in the intimate perspective of its subject, it also brings a broad perspective about everything from the development of modern medicine to women's issues of the nineteenth century, not to mention how norms of beauty and the definitions of monstrosity have inspired and held us back over the centuries. With Dr. Mütter's Marvels, Aptowicz keeps a steady hand on her historical scalpel, even as she wields it with a winning flourish."
—NPR Books

"Ms. Aptowicz rescues Mütter the man from undeserved obscurity, recreating his short life and hard times with wit, energy, and gusto. Her book, like the Mütter Museum, is a reminder that the course of human suffering and the progress of medical science are often messy, complex, and stranger than can be imagined."
—The Wall Street Journal

"As a huge fan of the Mütter Museum in Philadelphia, I was excited to get my hands on this rich biography of the real doctor, Thomas Mütter, a nineteenth-century surgeon who treated people with misunderstood conditions and amassed a fascinating collection of medical oddities."
—USA Today

"Austin-based poet and writer Aptowicz, a woman whose various awards and publications attest to her formidable skill and style when dealing with an impressive diversity of subjects . . . provide[s] such a thorough and compelling account of Mütter's life and times, his medical innovations and personal fortitude, his enduring legacy, as is to be found between the well-designed covers of this new book."
—The Austin Chronicle

"Aptowicz does an excellent job of establishing the context of the times and competing personalities. . . .  As Aptowicz clearly shows, [Mütter's] legacy lives on in many aspects of medicine we now take for granted."
—The Seattle Times

"Aptowicz has a keen eye for the era's grotesque details (amputation accidents, for one thing) and an obvious sympathy for Mütter's passion and legacy."
—The Boston Globe

"Aptowicz shows Mütter, beloved by his students, evolving from a mischievous, impatient young doctor to an increasingly spiritual man beset by premature illness, and her writing is as full of life as her subject."
—Publishers Weekly (Starred Review)

"Dr. Mütter's Marvels is both an insightful portrait of a pioneering surgeon and a reminder of how far medicine has come."
—BookPage

"Dr. Mütter's Marvels is narrative nonfiction at its best. . . . Aptowicz is refreshingly careful with her language, keeping the narrative speculation to a minimum, painting most of her scenery with the weight of her research. She revels in the details, but largely lets the reader draw their own conclusions. The result is an approachable history of a man and of a time period that does exactly what narrative nonfiction should do: answers the questions the reader never realized they had."
—A.V. Club

"In her deftly crafted narrative, the author provides an absorbing account of the charismatic surgeon's life and career as well as a vivid look at the medical practices and prejudices of his time. Aptowicz draws nicely on Mütter's speeches and lectures to reveal the depth of his empathetic philosophies and humanist approach."
—Kirkus Reviews (Starred Review)

"Aptowicz penned a fast-moving and popular history of the early- to mid-nineteenth-century American and Parisian medical worlds, making the most of works by and about Mütter's contemporaries."
—Library Journal (Starred Review)

"Aptowicz pens a fascinating and muscular biography of Dr. Thomas Dent Mütter, splendidly re-creating the doctor's medical advancements, the age in which he worked, and the conditions and practices he sought to change."
—Library Journal, Wyatt's World

"Aptowicz approaches her subject with passion and finesse, so that the book reads more like fiction than nonfiction, ensuring that it will appeal to a wide audience."
—Publishers Weekly, Galley Talk

"Cristin O'Keefe Aptowicz's 'true tale of intrigue and innovation at the dawn of modern medicine' is such a captivating, gripping, and intensely interesting historical tale that even the reader who has mere casual interest in the subject will find themselves devouring Aptowicz's text in a matter of days, if not hours."
—Fanboy Comics

"Ms. Aptowicz rescues Mütter the man from undeserved obscurity, recreating his short life and hard times with wit, energy, and gusto. Her book, like the Mütter Museum, is a reminder that the course of human suffering and the progress of medical science are often messy, complex, and stranger than can be imagined."
—Dr. John J. Ross, author of Shakespeare's Tremor and Orwell's Cough: Diagnosing the Medical Groans and Last Gasps of Ten Great Writers

"An extraordinary, moving, and humbling story about a remarkable and compassionate surgeon who changed the face of medicine forever. Cristin O'Keefe Aptowicz immerses us in the strange world of Dr. Thomas Mütter and unfolds the tale of his pioneering approach to surgery with verve, wit, and sensitivity. We are all of us the richer for Dr. Mütter's visionary work and the legacy he left us in the shape of one of the world's most beguiling museums."
—Wendy Moore, author of The Knife Man: Blood, Body Snatching, and the Birth of Modern Surgery