Speed Kings: The 1932 Winter Olympics and the Fastest Men in the World (Paperback)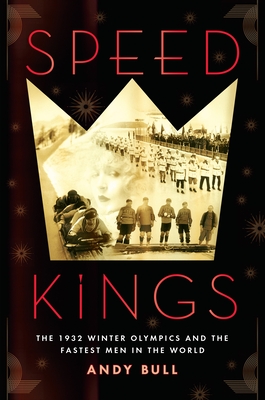 $16.00
Email or call for price.
November 2015 Indie Next List
---
"What a ride! And what unforgettable characters -- a Rhodes scholar who boxed and won gold medals in both the Summer and Winter Olympics; a high-society playboy; a Hollywood has-been; and the star of them all, who was born with a silver spoon and turned it into gold medals racing anything that went fast. Bull covers the lives of his speed kings from London, Hollywood, St. Maritz, and the Pacific with great depth and breadth, including the development of bobsled racing with all of its real dangers. An excellent read for anyone who loves sports, is interested in history, or simply appreciates well-crafted books."
— Ann Carlson (W), Waterfront Books, Georgetown, SC
Description
---
A story of risk, adventure, and daring as four American bobsledders race for the gold in the most dangerous competition in Olympic history.
 
In the 1930s, as the world hurtled toward war, speed was all the rage. Bobsledding, the fastest and most thrilling way to travel on land, had become a sensation. Exotic, exciting, and brutally dangerous, it was the must-see event of the 1932 Winter Olympics at Lake Placid, the first Winter Games on American soil. Bobsledding required exceptional skill and extraordinary courage—qualities the American team had in abundance.

There was Jay O'Brien, the high-society playboy; Tippy Grey, a scandal-prone Hollywood has-been; Eddie Eagan, world champion heavyweight boxer and Rhodes Scholar; and the charismatic Billy Fiske, the true heart of the team, despite being barely out of his teens. In the thick of the Great Depression, the nation was gripped by the story of these four men, their battle against jealous locals, treacherous U.S. officials, and the very same German athletes they would be fighting against in the war only a few short years later. Billy, king of speed to the end, would go on to become the first American fighter pilot killed in WWII. Evoking the glamour and recklessness of the Jazz Age, Speed Kings will thrill readers to the last page.


About the Author
---
Andy Bull is a senior sportswriter for The Guardian. In the decade he has been working there, he has covered more than fifty different sports and has received multiple nominations and commendations at both the British Press Awards and the Sports Journalism Awards. Speed Kings is his first book.


Praise For…
---
"The care Bull demonstrates in developing each of the figures in this engrossing narrative is almost novelistic...A well-written and entertaining sports story."
—Kirkus Reviews

"Speed Kings is the best kind of sports writing: a vibrant tapestry of personalities that also provides an intimate picture of major historical events. In this compelling tale of winter athletes competing on the world stage, we also glimpse the threads that pulled Europe and America inexorably toward a catastrophic war. A fine piece of narrative storytelling with great characters and excellent reportage."
 —McKay Jenkins, author of The Last Ridge
 
"Speed Kings brings to life the fascinating creation of the Winter Olympics and dives into the psychology of early extreme athletes. Best of all, it's told through the eyes of thrillingly complex characters, some of them admirable and some of them deliciously devious. It's rare to be so educated on a forgotten part of history, yet so joyfully entertained. Andy Bull clearly did some painstaking research to weave together this epic narrative."
 —Reed Albergotti, co-author of Wheelmen
 
 
"Talk about a fast read! Bull's tale starts at a breakneck pace and never lets up, taking in stories of playboys, princes, pilots, and prize fighters along the way. Speed Kings is not only a great adventure story of perseverance against the odds; it's also a brilliant evocation of a romantic and riskier era."
—Michael Blanding, author of The Map Thief