Crossed, Volume 1 (Paperback)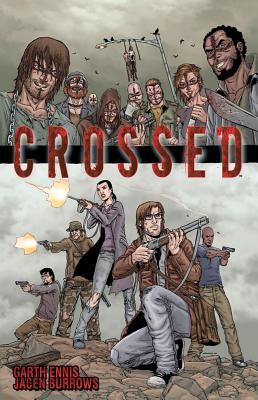 $24.99
Email or call for price.
Staff Reviews
---
For Garth Ennis fans, Crossed, will not disappoint. It's everything one would expect his zombie storyline to be. But for anyone else (especially those with taste, morals, and the slightest sense of decency), please move on to the next book—this is not for you. Seriously, this is the most disgusting zombie story you'll every read. These things are worse than zombies. They're like John Wayne Gacy zombies—and they're winning. I'm not kidding. Don't open this book. If you complain to management, I'll get in trouble. - Kyle
— From
Graphic Novels (page 1)
Description
---
Imagine, for a moment, the worst crimes against humanity. Picture the cruelest affronts to decency. Conjure your darkest nightmares... and then realize it could all be so much worse. When civilization crumbles in one terrifying moment; when people are gleefully breaking into unthinkable acts of violence all around you; when everyone you love has died screaming in agony: What do you do? There is no help. There is no hope. There is no escape. There are only the Crossed.
Garth Ennis has pulled out all the stops to write the most depraved and twisted book of his career, one that also may be his most poignant human drama Crossed is Ennis' horrifically visceral exploration of the pure evil that humans are truly capable of indulging and collected here are all ten heart-stopping chapters. This gut-wrenching vision is brought to vivid (and more than a little disturbing) life by his partner in crime Jacen Burrows.
About the Author
---
Garth Ennis, a critically acclaimed writer from Northern Ireland, has been working in the comic book industry for over 20 years, and is most easily recognized as the creator of Preacher, and long-time contributor to Marvel's Punisher. Perhaps his greatest success in recent years has been CROSSED, a horror survival series published by Avatar Press, in which the world has been overrun by sadistic homicidal maniacs. The CROSSED property has been optioned for film by Kevin Spacey's Trigger Street Productions. Other Avatar publications by Ennis include STREETS OF GLORY, CHRONICLES OF WORMWOOD, and 303.