Fool, Stop Trippin' (Paperback)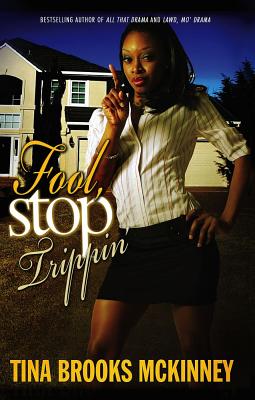 $21.99

Not Available In-Store - Usually Ships from Warehouse in 1-5 Days
Description
---
Tina Brooks McKinney is back with the third thrilling installment in her "drama" trilogy—where people will do anything to get the love they feel they deserve.

When Tarcia finds out the man she's been trying to snag already has a family, she becomes desperate and willing to go to any lengths to get back what she's lost—even when it means tearing up another family to pin this married man down for herself. Claiming pregnancy is just another move for her, but one that might end her up in jail.

At the same time, Sammie—a familiar face from All That Drama and Lawd, Mo' Drama—is battling through her own relationship problems as well, and her insecurities are hijacking any chance she might have for happiness. And while Jasmine, Sammie's half-sister, tries to help her make it through the tough times, she might end up as more of a hindrance to Sammie's emotional well-being.

As the characters search for the perfect life, readers are put in tune with their boiling emotions and learn the cost of basing one's happiness on having a mate. How far should one go in pursuing love, and what happens when all these go-getters start trippin' over each other in the chase? Who, if any of them, will discover true bliss in the end?
About the Author
---
Tina Brooks McKinney was born and raised in Baltimore, Maryland. She is the author of numerous books, including Snapped, Fool, Stop Trippin', Out Done, Who's Trippin' Now?, and Deep Deception. She now lives with her husband in Covington, Georgia.
Praise For…
---
"Everybody plays the fool -- sometime! The need to know whom, when and how captivated me to the very end of this skillfully crafted page-turner, and left me wanting more." -- Marsha D. Jenkins-Sanders, author of The Other Side of Through and Jealousy: A Strange Company Keeper

"Tina! You blew me away with Fool, Stop Trippin'. That book is a quick drama-filled rollercoaster ride. You did a great job with your characterization and I loved the voodoo swang too. I don't know how you know what you know, and I don't want to know, but you definitely had me convinced! Nice lead-in to the sequel, girl. Exciting book! Thanks for letting me read it." -- J.D. Mason, Author of This Fire Down in My Soul, Don't Want No Sugar, And on the Eighth Day She Rested and One Day I Saw a Black King and a contributing author to Blackgentlemen.com

"Wow! Fool, Stop Trippin' is an absolutely chilling, thought-provoking, imaginative page-turner. I highly recommend this touch of paranormal to all who are open to reading it." -- Lynel Johnson Washington, freelance editor