Undone: A Novel (Paperback)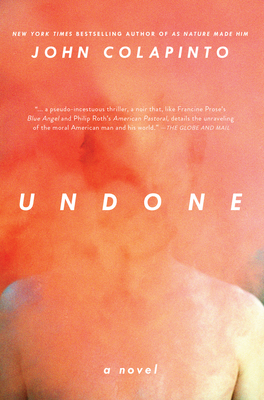 $16.95

Not Available In-Store - Usually Ships from Warehouse in 1-5 Days
Staff Reviews
---
I enjoyed this book so much, I'm slightly worried about myself: should I relish such a nasty little story? I was horrified by the exploits of the amoral protagonist, but I couldn't help but like him a little bit. Just a little. I was transfixed by the depths to which he sank and I found myself relating to him in odd little moments (his disdain for the painfully earnest, especially). Reading Undone was like experiencing a long, slow sneeze: awkward and strange, but ultimately incredibly satisfying!
—
Lauren
Description
---
Already hailed and persecuted for its perverse humor and wildly wicked sensibility, Undone is the tour-de-force black comedy by International IMPAC Dublin Literary Award Nominee John Colapinto.

In modern day America, Dez is a former lawyer and teacher — an ephebophile with a proclivity for teenage girls, hiding out in a trailer park with his latest conquest, Chloe.

Having been in and out of courtrooms (and therapists' offices) for a number of years, Dez is adrift, at odds with a society that persecutes him over his desires. From his couch one afternoon, Dez watches an interview with Jasper Ulrickson, a doting father and loving husband whose heartrending memoir, Lessons from My Daughter, has become a national bestseller. The memoir chronicles his journey with his wife, Pauline, who suffered a stroke giving birth to their only child and has been in a locked-in state ever since. Espousing their deep connection and chaste marriage, Jasper's selfless devotion to his wife has made him one of the most popular and admired men in America.

So Dez sets out to do what any red-blooded American would do: destroy Ulrickson by using Chloe to pose as the famous author's long-lost daughter, infiltrate his family, seduce him, and, when
About the Author
---
John Colapinto is an award-winning journalist, author, and staff writer at The New Yorker, where he has written about subjects as diverse as medicinal leeches, Sotheby's auctioneer Tobias Meyer, fashion designers Karl Lagerfeld and Rick Owens, and Paul McCartney. Prior to this, he wrote for Vanity Fair, New York Magazine, and the New York Times Magazine, and he was a contributing editor at Rolling Stone. His nonfiction book, As Nature Made Him: The Boy Who Was Raised as a Girl, was a New York Times bestseller and his debut novel, About The Author, was nominated for the International IMPAC Dublin Literary Award. He lives in New York City.
Praise For…
---
"Undone is an addictive book." —New Pop Lit

"New Yorker staffer Colapinto's novel (after About the Author) is an over-the-top, irreverent, and darkly comical thriller… Colapinto's novel oscillates between highly ironic and deeply earnest treatments of this taboo subject matter. The story tackles sexual and moral dilemmas that are worth contemplating, delivering them at a breakneck and often entertaining pace."—Publishers Weekly

'"Cannily over the top in its comic depravity and magnetizing in its sympathy, Colapinto's battle royale of innocence and evil, blindness and illumination, betrayal and love will thrill those who enjoy subversively erotic and suspenseful fiction of the finest execution and most cutting implications." —Booklist Starred Review

"[Colapinto's] pacing is expert… A well-machined page-turner that brings some smarts to a touchy subject." —Kirkus

"Undone is one of the most profoundly disturbing novels you'll ever read —there's not a taboo John Colapinto isn't willing to skewer —but it's also one of the most entertaining. Equal parts thriller and deft satire, Undone will make you laugh while you cringe and leave you asking questions about the very culture that created it." —Tod Goldberg, author of Gangsterland

"Wicked, sexy, funny, ghastly, tragic, and, oh, did I say very funny. The dialogue is good and so is the narrative, intelligent and witty. A terrific read." —Michael Lindsay-Hogg, author of Luck and Circumstance

"Undone casts a very specific spell: It enthralls and horrifies simultaneously... it's a pseudo-incestuous thriller, a noir that, like Francine Prose's Blue Angel and Philip Roth's American Pastoral, details the unraveling of the moral American man and his world… The inevitable disaster exerts a magnetizing force, drawing the reader forward at hurtling speeds to an intolerable climax. Our own urgency and hunger for the story is upsetting perhaps precisely because it mimics the hero's troubling lust." —The Globe and Mail

"You might call Undone a Lolita for the DNA-age…. Colapinto revels conspicuously in words and language. His sprightly third-person narrator rambles garrulously, as if extemporizing an obscure fable. Put the book down and it's easy to imagine him still chatting away inside the covers… Undone stretches credulity like taffy, mostly because it can: the dominant mood here is social and psychological satire, not realism. Colapinto exploits it all brilliantly, taking considerable risks along the way." —Emily Donaldson, The Toronto Star

"As impolite a book as you're likely to read… Undone is a novel about envy and the ways in which it corrodes and corrupts." —Mark Medley, The Globe and Mail

"In his arresting novel, John Colapinto fearlessly explores the troubled terrain that lies between desire and cruelty, fidelity and temptation, and crime and punishment. Equal parts mystery, social satire, and philosophical rumination, Undone asks 'What drives a good man to act badly?'" —Rachel Giese, journalist

"Vivacious is an adjective often reserved for women, but Undone is that unusual hybrid —a vivaciously male novel. Colapinto targets the bloodless male literary characters of the 21st century as his story profanely embodies the great roles —orphans, protectors, invalids, lechers, predators—and tosses literary themes in the air like so many spinning crystals. Colapinto, who is astutely brilliant at animating people on the pages of The New Yorker, refracts modern morality —hubris, loss, good, evil, lust, revenge—to give us a spicy take full of verve, vim, and villainy." —Claudia Casper, author of The Reconstruction

"John Colapinto has written a wicked and sharp-edged novel that cuts deep into both contemporary media culture and the uncontrollable embarrassment that is male sexual desire." —Russell Smith, author of Girl Crazy

"Though it takes its best cues from the traditional mystery novel, it is also a satire shot through with unexpected, touching sincerity. The characters are daft, sweet, disgusting, outrageous, heartrendingly admirable, annoying —and oddly true. I read the story thinking 'This could never happen!' knowing full well that, in the morally conservative, sexual crime-obsessed America of today, it actually could happen." —Karen Connelly, author of The Lizard Cage