Another Place You've Never Been (Hardcover)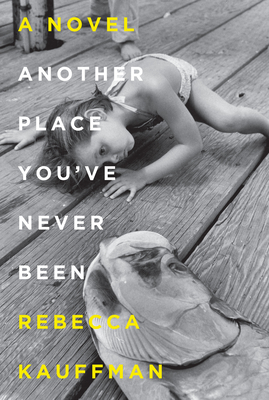 $25.00
Not Available In-Store - Usually Ships from Warehouse in 1-5 Days
Staff Reviews
---
I thought I would start this book, be semi-impressed, and eventually move on to a different read. I was wrong. Kauffman's writing is intentional; certain descriptions had me questioning if she was a fly on the wall of my childhood. The way she uses her main character, Tracy, as a peripheral character in some chapters is brilliant. We all have aspects of Tracy in our own character, or at least know a Tracy: neglected, desperate, and perpetually human. I can't say I've read anything quite so similar. This novel is gritty, exposed, American, inviting, and personal. Dive in, but be wary of the water.
—
Jordan
Description
---
Most of us have experienced what it's like to know what someone is going to say right before they say it. Or perhaps you have been shocked by the irrefutable phenomena of coincidence, when your life intersects with another's in the most unlikely way. In gripping prose marked by stark simplicity, Another Place You've Never Been by debut novelist Rebecca Kauffman explores the intersection of human experience amidst the minutiae of everyday life. In her mid-thirties and living in Buffalo, NY (where she is originally from), Tracy spends most days at the restaurant where she works as a hostess, despite her aspirations of a career that would make use of her creative talents. Tracy's life is explored not only though her own personal point of view, but also through the viewpoints of other characters, wherein Tracy may only make a peripheral appearance or even emerge at different periods in her life. Kauffman subtly exposes the lives of these characters--alongside the presences of spiritually mysterious Native American figures that appear throughout--and gradually reveals the true purposes of both as their paths intersect.

About the Author
---
REBECCA KAUFFMAN is originally from rural northeastern Ohio. She received her B.A. in Classical Violin Performance from the Manhattan School of Music, and several years later, she received her M.F.A. in Creative Writing from New York University. She currently lives in the Shenandoah Valley of Virginia.