We Could Perceive No Sign of Them: Failed Colonies in North America, 1526–1689 (Paperback)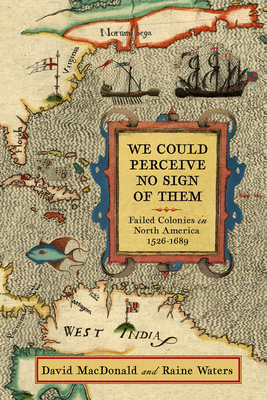 Description
---
The Story of the Many Ill-Fated Attempts by Europeans to Create Permanent Settlements in the New World 
The nations of the modern Americas began as successful colonies, but not all colonies succeeded, and the margin between colonies that survived and those that failed was small. Both contribute to our understanding of the ordeals of the Europeans who first settled in the New World and of the Native Americans who had to interact with them, but with the exception of the famous lost Roanoke colony, the failed colonies of North America remain largely unknown except to specialists in colonial history. The Spanish and French repeatedly attempted to colonize parts of Georgia, Florida, and Virginia, while the Dutch, French, and English sought to establish permanent settlements along the northern waterways of the New World. The greatest problem faced by every colony was the specter of starvation. Native Americans gave food to newly arrived colonists, but such generosity could not endure. Indigenous people soon realized that colonists of every nationality were prepared to make war against Native peoples, conquer, subjugate, and even massacre whole communities unless they were cooperative and offered no resistance to the intrusion into their territory. In response, Native Americans withheld aid or resorted to retaliatory violence, dooming many European settlements. 
    In We Could Perceive No Sign of Them: Failed Colonies in North America, 1526–1689, historians David MacDonald and Raine Waters tell the fascinating stories of the many attempts to establish a European foothold in the New World, from the first Spanish colony in 1526 on the coast of Georgia to the final disastrous French endeavors near the arctic. Using primary source texts, the authors synthesize the shared experiences of Europeans to better understand the very fine line between success and failure and the varieties of Native American responses. 
About the Author
---
David MacDonald is professor emeritus of history at Illinois State University. He received a BA from California State University at Fresno and a PhD from the University of Minnesota. He is the author of a number of books and articles, including Lives of Fort de Chartres: Commandants, Soldiers, and Civilians in French Illinois 1720-1770. He lives in Carlock, Illinois.
Raine Waters received a BS and MS from Illinois State University. She is author, with David MacDonald, of Kaskaskia: The Lost Capital of Illinois.
Praise For…
---
"Methodically researched, this book uses a wide array of primary and secondary sources. The authors provide insight into all-but-forgotten lost colonies like San Miguel de Gualdape, the first Spanish settlement in North America; Fort St. Louis, the accidental French settlement in Spanish Texas; and Sagadahoc (also known as the Popham Colony), England's first attempt to establish a colony in New England. Each of the thirteen chapters—broken into three parts, covering Spanish, French, and English endeavors—introduces readers to a different failed colony. Together, these chapters form a larger picture of early European settlement in North America, the challenges these colonies faced, and the fine line between the settlements that failed and those that survived. Both informative and analytical, this book should appeal to most readers interested in early American history."—Choice

"The tenacious myth of the American Dream would have it that hard work is always recompensed by success. Yet, failure is just as much part of North American history. For every Plymouth, Jamestown, and Québec, there is an Ajacán, Roanoke, and Sable Island. David MacDonald and Raine Waters gather here some of the more prominent examples of colonial failure and lay them out in an easily accessible primer on this facet of the continent's history. By telling their stories, the authors also demonstrate that the success of other colonies was not a foregone conclusion by any means. Professional researchers will especially appreciate the commentary on primary sources, and hopefully be inspired to further pursue this avenue of study in trying to understand the roots of early colonialism in what would become Canada and the United States." 
—Joseph Gagné, historian and author of Inconquis: Deux retraites françaises vers la Louisiane après 1760