I'll Drink to That: A Life in Style, with a Twist (Hardcover)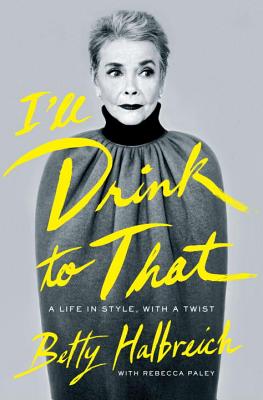 Staff Reviews
---
Books about fashion, especially when they are from an insider's perspective, are my not-so-guilty pleasure: I love reading lush descriptions of luxurious fabrics, unique cuts, and all the accessories one can drape on themselves. I also really love reading about gutsy broads, women who have forged their own path in life. I'll Drink to That combines both of my specific tastes! Betty Halbreich is the famous personal shopper at Bergdorf Goodman's, the arbiter of taste, friend, and occasional therapist for women of all shapes and incomes. She truly loves clothes and her ladies and this compulsively readable memoir is a testament to that. Betty writes like a trusted friend: chatty, honest, and brave, pulling no punches when it comes to baring her faults. She's one of the last great dames and her book should make her a familiar name to more than just those in-the-know. I'll drink to that!
—
LAUREN'S STAFF PICKS
Description
---
Eighty-six-year-old Betty Halbreich is a true original. A tough broad who could have stepped straight out of Stephen Sondheim's repertoire, she has spent nearly forty years as the legendary personal shopper at Bergdorf Goodman, where she works with socialites, stars, and ordinary women off the street. She has helped many find their true selves through clothes, frank advice, and her own brand of wisdom. She is trusted by the most discriminating persons--including Hollywood's top stylists--to tell them what looks best. But Halbreich's personal transformation from a cosseted young girl to a fearless truth teller is the greatest makeover of her career.
A Chicago native, Halbreich moved to Manhattan at twenty after marrying the dashing Sonny Halbreich, a true character right out of Damon Runyon who liked the nightlife of New York in the fifties. On the surface, they were a great match, but looks can be deceiving; an unfaithful Sonny was emotionally distant while Halbreich became increasingly anguished. After two decades, the fraying marriage finally came undone. Bereft without Sonny and her identity as his wife, she hit rock bottom.
After she began the frightening process of reclaiming herself and started therapy, Halbreich was offered a lifeline in the form of a job at the legendary luxury store Bergdorf Goodman. Soon, she was asked to run the store's first personal shopping service. It was a perfect fit.
Meticulous, impeccable, hardworking, elegant, and--most of all--delightfully funny, Halbreich has never been afraid to tell it to her clients straight. She won't sell something just to sell it. If an outfit or shoe or purse is too expensive, she'll dissuade you from buying it. As Halbreich says, "There are two things nobody wants to face: their closet and their mirror." She helps women do both, every day.
About the Author
---
Betty Halbreich is the director of Solutions at Bergdorf Goodman. The author of Secrets of a Fashion Therapist, Halbreich regularly dispenses her unique brand of wit and style in a wide range of media outlets from the Today show to the Wall Street Journal to Refinery29. The legendary personal shopper--who has been impeccably dressing her clients for forty years and herself for eighty-six--was featured in The New Yorker and the 2013 documentary Scatter My Ashes at Bergdorf's. She is also the inspiration for a forthcoming HBO television series written by Lena Dunham.