A Brief History of Seven Killings: A Novel (Paperback)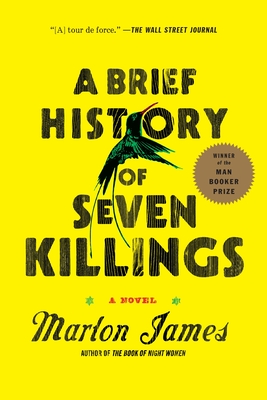 Staff Reviews
---
I have been waiting eight long and terrible years for a novel to be as good as the Brief Wondrous Life of Oscar Wao by Junot Diaz. The wait is over. I know I'm a little late to the party (A Brief History of Seven Killings won the Man Booker prize in October), but I would be neglecting my duties as a human being and rabid lover of Postcolonial literature if I allowed you to walk past this book without figuratively grabbing you by the coat collar and screaming READ ME READ ME in trite but completely justified capital letters. An anecdote about how good it is: We here at Changing Hands have been tasked with writing a review of our single favorite book of 2015, and I had one all ready to go to print. Now I have to delete it and start over because it would have been a lie. In actuality, it took until December 12th for me (unwittingly) even to start the best book I'd read all year, and I read the giant, wonderful, fascinating, historical, multilingual, murderous brick of a novel in thirty sleepless, frantic, more-coffee-in-my-veins-than-blood days and nights. A Brief History of Seven Killings. I can't say any more about it that it doesn't say for itself. Except one more thing: much like the still-living characters in the book can't, once you've finished A Brief History of Seven Killings, you'll never forget the name Josey Wales.
—
Joel
Description
---
Winner of the Man Booker Prize

One of Entertainment Weekly's Top 10 Books of the Decade

One of the Top 10 Books of 2014 – Michiko Kakutani, The New York Times

A "thrilling, ambitious . . . intense" (Los Angeles Times) novel that explores the attempted assassination of Bob Marley in the late 1970s, from the author of Black Leopard, Red Wolf

In A Brief History of Seven Killings, Marlon James combines masterful storytelling with his unrivaled skill at characterization and his meticulous eye for detail to forge a novel of dazzling ambition and scope.

On December 3, 1976, just before the Jamaican general election and two days before Bob Marley was to play the Smile Jamaica Concert to ease political tensions in Kingston, seven unnamed gunmen stormed the singer's house, machine guns blazing. The attack wounded Marley, his wife, and his manager, and injured several others. Little was officially released about the gunmen, but rumors abounded regarding the assassins' fates. A Brief History of Seven Killings is James's fictional exploration of that dangerous and unstable time in Jamaica's history and beyond. Deftly spanning decades and continents and peopled with a wide range of characters—assassins, drug dealers, journalists, and even ghosts—James brings to life the people who walked the streets of 1970s Kingston, who dominated the crack houses of 1980s New York, and who reemerged into a radically altered Jamaica of the 1990s. Brilliantly inventive, A Brief History of Seven Killings is an "exhilarating" (The New York Times) epic that's been called "a tour de force" (The Wall Street Journal).
About the Author
---
Marlon James was born in Jamaica in 1970. His most recent novel, A Brief History of Seven Killings, won the 2015 Man Booker Prize. It was also a finalist for the National Book Critics Circle Award and won the OCM Bocas Prize for Caribbean Literature for fiction, the Anisfield-Wolf Book Award for fiction, and the Minnesota Book Award. It was also a New York Times Notable Book. James is also the author of The Book of Night Women, which won the 2010 Dayton Literary Peace Prize and the Minnesota Book Award, and was a finalist for the 2010 National Book Critics Circle Award in fiction and an NAACP Image Award. His first novel, John Crow's Devil, was a finalist for the Los Angeles Times Book Prize for first fiction and the Commonwealth Writers' Prize and was a New York Times Editors' Choice. James lives in Minneapolis.
Praise For…
---
"How to describe Marlon James's monumental new novel A Brief History of Seven Killings? It's like a Tarantino remake of The Harder They Come but with a soundtrack by Bob Marley and a script by Oliver Stone and William Faulkner, with maybe a little creative boost from some primo ganja. It's epic in every sense of that word: sweeping, mythic, over-the-top, colossal and dizzyingly complex. It's also raw, dense, violent, scalding, darkly comic, exhilarating and exhausting—a testament to Mr. James's vaulting ambition and prodigious talent."
—Michiko Kakutani, The New York Times

"[Marlon James] is a virtuoso …[the novel is] an epic of postcolonial fallout, in Jamaica and elsewhere, and America's participation in that history. …the book is not only persuasive but tragic, though in its polyphony and scope it's more than that….It makes its own kind of music, not like Marley's, but like the tumult he couldn't stop."
—New York Times Book Review
 
"Nothing short of awe-inspiring."
—Entertainment Weekly
 
"[A] tour de force… [an] audacious, demanding, inventive literary work."
—Wall Street Journal
 
"Rendered with virtuosic precision and deep empathy."
–Time
 
"Exploding with violence and seething with arousal, the third novel by Marlon James cuts a swath across recent Jamaican history…This compelling, not-so-brief history brings off a social portrait worthy of Diego Rivera, antic and engagé, a fascinating tangle of the naked and the dead."
—The Washington Post

"A strange and wonderful novel…Mr. James's chronicle of late 20th-century Jamaican politics and gang wars manages consistently to shock and mesmerise at the same time."
—The Economist  

"James has written a dangerous book, one full of lore and whispers and history… [a] great book... James nibbles at theories of who did what and why, and scripts Marley's quest for revenge with the pace of a thriller. His achievement, however, goes far beyond opening up this terrible moment in the life of a great musician. He gives us the streets, the people, especially the desperate, the Jamaicans whom Marley exhorted to: 'Open your eyes and look within:/ Are you satisfied with the life your living?'"
—The Boston Globe
 
"Thrilling, ambitious…Both intense and epic."
—Los Angeles Times
 
"A prismatic story of gang violence and Cold War politics in a turbulent post-independence Jamaica."
—The New Yorker
 
"I highly recommend you pick [A Brief History of Seven Killings] up. As a book of many narrators, this novel reminds me of Roberto Bolano's The Savage Detectives."
—NPR, All Things Considered
 
"An impressive feat of storytelling: raw, uncompromising, panoramic yet meticulously detailed. The Jamaica portrayed here is one many people have heard songs about but have never seen rendered in such arresting specificity—and if they have, only briefly."
—Chicago Tribune
 
"A sweeping novel that touches on family, friendship, celebrity, art, sexuality, ghetto politics, geopolitics, drug trade, gender, race and more, sending the reader from Jamaica to New York via Miami and Cuba and back."
—Newsweek
 
"Like a capacious 19th-century novel crossed with a paranoid Don DeLillo conspiracy-theory thriller…the book rewards time spent, bringing a complex perspective on violence, corruption, and the untidiness of humanity to vivid life and astonishing detail. It makes you want to rush out and read everything else James has written."
—The Philadelphia Inquirer
 
"The way James uses language is amazing….Vigorous, intricate and captivating, A Brief History of Seven Killings is hard to put down."
—Ebony  
 
"A gripping tale in which music, drugs, sex, and violence collide with explosive results."
—Bustle
 
"James's masterful novel radiates; [it's] a character-driven tale that takes place in a maelstrom of guns, drugs and politics."
—Playboy
 
"Brilliantly executed… The novel makes no compromises, but is cruelly and consummately a work of art."
—The Minneapolis Star Tribune
Coverage from NPR