Gretel and the Dark: A Novel (Paperback)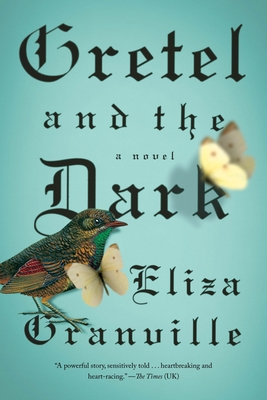 $16.00
Not Available In-Store - Usually Ships from Warehouse in 1-5 Days
Staff Reviews
---
This is probably one of the hardest books I've read to describe. It set in the past around the time of World War II with two different storylines both as intriguing and dark as the other. I loved the way the author intertwines old fairy tales so subtle and cleverly throughout the book and still makes them relevant to the overall plot . You follow the story in one part thought the voice of a young spoiled girl in Nazi Germany trying to make sense of the world around her as her world slowly falls apart , and then you are in the house of a Jewish doctor before the war trying to help a young helpless girl who has lost her identity and believe she is sent to kill someone. The ending will leave you shocked as she brings the stories together. 
—
Jess
Description
---
A captivating and atmospheric historical novel about a young girl in Nazi Germany, a psychoanalyst in fin-de-siècle Vienna, and the powerful mystery that links them together.

Gretel and the Dark explores good and evil, hope and despair, showing how the primal thrills and horrors of the stories we learn as children can illuminate the darkest moments in history, in two rich, intertwining narratives that come together to form one exhilarating, page-turning read. In 1899 Vienna, celebrated psychoanalyst Josef Breuer is about to encounter his strangest case yet: a mysterious, beautiful woman who claims to have no name, no feelings—to be, in fact, a machine. Intrigued, he tries to fathom the roots of her disturbance.

Years later, in Nazi-controlled Germany, Krysta plays alone while her papa works in the menacingly strange infirmary next door. Young, innocent, and fiercely stubborn, she retreats into a world of fairy tales, unable to see the danger closing in around her. When everything changes and the real world becomes as frightening as any of her stories, Krysta finds that her imagination holds powers beyond what she could ever have guessed.

Rich, compelling, and propulsively building to a dizzying final twist, Gretel and the Dark is a testament to the lifesaving power of the imagination and a mesmerizingly original story of redemption.
About the Author
---
Eliza Granville was born in Worcestershire and currently lives in the Welsh Marches.
Praise For…
---
"As haunting, lyrical, and enchanting as the fairy tales Krysta is so taken with, Granville's bittersweet first novel will keep readers hooked, guessing and wondering how Lilie and Krysta's stories relate, right up to the end."—Library Journal (starred)

"In Gretel and the Dark, Eliza Granville masterfully entwines two richly layered and compelling stories of two seemingly different worlds. Filled with remarkable historical detail and stunning prose, both Krysta's and Lilie's stories captivated me, and Granville kept me quickly turning the pages to discover the connection between these two girls. By turns beautiful and frightening, magical and dark, this is a novel that will stay with me for a long time to come."
—Jillian Cantor, author of Margot

"Dark and intriguing . . .  a highly clever, original book."
—The Daily Mail (UK)

"A powerful story, sensitively told…a terrifying tale about the stories we hear and the stories we tell ourselves to understand our experiences…it's impossible not to find yourself racing through the pages, desperate to discover the connections…heartbreaking and heart-racing."—The Times (UK)

"Atmospheric and beautifully written…a subtle and thoughtful novel. It seems soon to call it, but Gretel and the Dark will be one of the best books of 2014."
—The List (UK)