So You've Been Publicly Shamed (Paperback)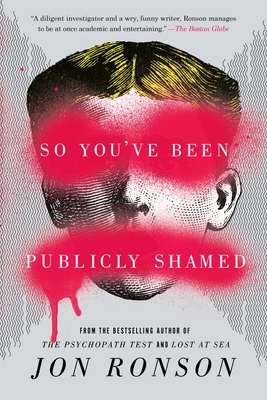 $17.00

Not Available In-Store - Usually Ships from Warehouse in 1-5 Days
Staff Reviews
---
A writing professor once told me that the best way to create relatable characters was to humiliate them, because everyone identifies with shame and the psychological malaise that trails in its wake. Think about it. Michael Vick. Bill Clinton. Hester Prynne. Me. You. We all have something in common: we've all done something that we're ashamed about; something that, were it to be exposed, would seemingly end our life's self-controlled epoch and throw us into a melee of humiliating and annihilating turmoil. And yet somehow, masses of secretly devious people are, at this very moment, scrolling through websites like Twitter frothing at the mouth in search of their next shame target. Why do we do this? Why do we relish in the opprobrium of the infamous? Ronson discusses the terrors of public shaming and it's consequences both for the insatiable shamer and the head-burying shamee with anecdotes so hysterical, poignant, and thought-provoking that I literally couldn't force myself to leave my couch, even as I felt the blood pooling in the backs of my legs. This book gripped me more viscerally than any work of fiction has in a long time (this is probably because Ronson's non-fiction reads like Junot Diaz's fiction). Close to, if not the best non-fiction book I've read ever. 
—
Joel
April 2015 Indie Next List
---
"This book both fascinated and terrified me with its insights into the increasing outrage to be found on social media and how careers and even lives can be quickly ruined by public forums. Ronson takes the concept further, exploring the history of public shaming, the nature of crowd 'madness,' why some people are unaffected by the process while others are devastated, and how Google searches make it hard to recover from the trauma. Not only will I recommend this book, but I will also ask people to come back and tell me what they think about the questions that are raised. This is a dialogue that needs to happen!"
— Ann Carlson, Waterfront Books, Georgetown, SC
Description
---
Now a New York Times bestseller and from the author of The Psychopath Test, a captivating and brilliant exploration of one of our world's most underappreciated forces: shame.
 
'It's about the terror, isn't it?'
 
'The terror of what?' I said.
 
'The terror of being found out.'
 
For the past three years, Jon Ronson has travelled the world meeting recipients of high-profile public shamings. The shamed are people like us - people who, say, made a joke on social media that came out badly, or made a mistake at work. Once their transgression is revealed, collective outrage circles with the force of a hurricane and the next thing they know they're being torn apart by an angry mob, jeered at, demonized, sometimes even fired from their job.
 
A great renaissance of public shaming is sweeping our land. Justice has been democratized. The silent majority are getting a voice. But what are we doing with our voice? We are mercilessly finding people's faults. We are defining the boundaries of normality by ruining the lives of those outside it. We are using shame as a form of social control.
 
Simultaneously powerful and hilarious in the way only Jon Ronson can be, So You've Been Publicly Shamed is a deeply honest book about modern life, full of eye-opening truths about the escalating war on human flaws - and the very scary part we all play in it.
About the Author
---
Jon Ronson's books include the New York Times bestsellers The Psychopath Testand Lost at Sea: The Jon Ronson Mysteries, and international bestsellers Them: Adventures with Extremists and The Men Who Stare at Goats. He also cowrote the screenplay for Frank, which will be released in theaters August 2014, and which stars Michael Fassbender and Maggie Gyllenhaal. Ronson is a regular contributor toThis American Life and lives in London and New York City.
Praise For…
---
"Gutsy and smart. Without losing any of the clever agility that makes his books so winning, he has taken on truly consequential material and risen to the challenge….fascinating…shocking…Mr. Ronson's gift for detail-picking is, as ever, a treat." –The New York Times

"A sharp-eyed and often hilarious book…Jon Ronson has written a fresh, big-hearted take on an important and timely topic. He has nothing to be ashamed of." –NPR.org
 
"A diligent investigator and a wry, funny writer, Ronson manages to be at once academic and entertaining." –The Boston Globe

"This is a wonderful book." –Jon Stewart 
 
"This book really needed to be written." –Salon.com

"Required reading for the internet age." – Entertainment Weekly

"With an introspective and often funny lens, [Ronson] tracks down those whose blunders have exploded in the public eye…So You've Been Publicly Shamed is an insightful, well-researched, and important text about how we react to others' poor decisions." –The Huffington Post
 
"Personable and empathetic, Ronson is an entertaining guide to the odd corners of the shame-o-sphere." –The Minneapolis Star Tribune

"It's sharply observed, amusingly told, and, while its conclusions may stop just short of profound, the true pleasure of the book lies in arriving at those conclusions."
 –The Onion

"Like all of Ronson's books, this one is hard to put down, but you will absolutely do so at some point to Google yourself." –TheMillions.com

"An irresistibly gossipy cocktail with a chaser of guilt." –Newsday
 
"With So You've Been Publicly Shamed Ronson has written a timely, interesting and titillating read for any Internet drama junkie." –PopMatters.com

"[A] simultaneously lightweight and necessary book." –Esquire

"A work of original, inspired journalism, it considers thecomplex dynamics between those who shame and those who are shamed, both of whom can become the focus ofsocial media's grotesque, disproportionate judgments."  –The Financial Times

"[So You've Been Publicly Shamed] is both entertaining and fair -- a balance we could use a lot more of, online and off."  –Vulture

"Ronson is an entertaining and provocative writer, with a broad reach …[So You've Been Publicly Shamed] is a well-reported, entertainingly written account of an important subject." –The Oregonian

"Ronson is a fun writer to read...fascinating." –Fast Company

"I was mesmerized. And I was also disturbed."  –Forbes

"[So You've Been Publicly Shamed] promises to be the most relevant book of the year." –FlavorWire

"I was sickly fascinated by the book. I think it's Ronson's best book." –Mark Frauenfelder for BoingBoing

"With confidence, verve, and empathy, Ronson skillfully informs and engages the reader without excusing those caught up in the shame game. As he stresses, we are the ones wielding this incredible power over others' lives, often with no regard for the lasting consequences of our actions." –Starred Booklist Review

"Clever and thought-provoking, this book has the potential to open an important dialogue about faux moral posturing online and its potentially disastrous consequences." –Publishers Weekly

"Relentlessly entertaining and thought-provoking."  –The Guardian

 "Certainly, no reader could finish it without feeling a need to be gentler online, to defer judgment, not to press the retweet button, to resist that primal impulse to stoke the fires of shame." –The Times
 
"Excruciating, un-put-downable…So You've Been Publicly Shamed is a gripping read, packed with humor and compassion and Ronson's characteristic linguistic juggling of the poignant and the absurd." –Chapter16.org
 
"A powerful and rewarding read, a book utterly of the moment."—The Hamilton Spectator

"Ronson is a lovely, fluid writer, and he has a keen eye for painful, telling details." —The Bloomberg View

"Fascinating and trenchant." –The Denver Post
 
"[Ronson] is one of our most important modern day thinkers…[So You've Been Publicly Shamed] is one of the most therapeutic books imaginable." – US News & Word Report

"Personable and empathetic, Ronson is an entertaining guide to the odd corners of the shame-o-sphere." –The Houston Chronicle
 
"[A] satirical Malcolm Gladwell… an accessible, fun read." – Everyday Ebook

"We love Jon Ronson. He's thoughtful and very funny. [So You've Been Publicly Shamed] is a great book about the way the internet can gang up on people and shame them, when they deserve it, when they don't deserve it and it's great."  – Judd Apatow

"Jon Ronson is unreal. So You've Been Publicly Shamed –everyone should read that book. He's one of my favorite human beings." – Bill Hader 

"[A] brilliant, thought-provoking book – a fascinating examination of citizen justice, which has enjoyed a great renaissance since the advent of the internet." – Tatler 

 
"A terrifying and keen insight into a new form of misguided mass hysteria." – Jesse Eisenberg
 
"A fascinating exploration of modern media and public shaming… It's a great conversation starter. Is Twitter the new Salem Witch trials?"– Reese Witherspoon