Hall of Small Mammals: Stories (Paperback)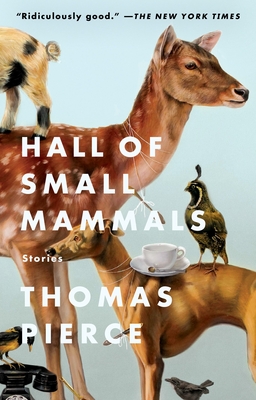 $16.00
Not Available In-Store - Usually Ships from Warehouse in 1-5 Days
Staff Reviews
---
I'd say the mind of Thomas Pierce would make a highly entertaining hangout, based on his first collection of short stories. Surely, he's both observer and dreamer, and playful at mixing the way the "real" world is still such a mix of old and new. These dynamic stories are set in a recognizable present, each an odd tale, fanciful and bizarre, as well as weirdly plausible. Take the case of the cloned pygmy mammoth in the backyard, for example, or the videos of people falling down. The inventiveness in Pierce's narration, so on par with the weird nature of reality, causes amazement, of the life-imitates-art kind, dread and laughter. His stories may imply that the universe is laughing, too. With us or at us though, I'm not entirely sure, but uncertainty is just one of the entertaining elements in Pierce's stories.
—
Claudia
Description
---
A wild, inventive ride of a short story collection from a distinctive new American storyteller.

The stories in Thomas Pierce's Hall of Small Mammals take place at the confluence of the commonplace and the cosmic, the intimate and the infinite. A fossil-hunter, a comedian, a hot- air balloon pilot, parents and children, believers and nonbelievers, the people in these stories are struggling to understand the absurdity and the magnitude of what it means to exist in a family, to exist in the world.

In "Shirley Temple Three," a mother must shoulder her son's burden—a cloned and resurrected wooly mammoth who wreaks havoc on her house, sanity, and faith. In "The Real Alan Gass," a physicist in search of a mysterious particle called the "daisy" spends her days with her boyfriend, Walker, and her nights with the husband who only exists in the world of her dreams, Alan Gass.  Like the daisy particle itself—"forever locked in a curious state of existence and nonexistence, sliding back and forth between the two"—the stories in Thomas Pierce's Hall of Small Mammals are exquisite, mysterious, and inextricably connected.

From this enchanting primordial soup, Pierce's voice emerges—a distinct and charming testament of the New South, melding contemporary concerns with their prehistoric roots to create a hilarious, deeply moving symphony of stories.
About the Author
---
Thomas Pierce was born and raised in South Carolina. His stories have appeared in The New Yorker, The Atlantic, Oxford American, and elsewhere. A recipient of the National Book Foundation's 5 Under 35 award, he is a graduate of the University of Virginia creative writing program and lives in Virginia with his wife and daughter.
Praise For…
---
Praise for Hall of Small Mammals

"Ridiculously good… These stories never drift vaguely off into the ether. They are beautifully built, and their author has an especially deft way of finding just the right final flourish…. [There's a] feeling of being inside a bubble while reading Mr. Pierce, and it is a bubble you won't want to leave. This is such a fine collection that there's not a stinker in the bunch…. Mr. Pierce's originality, inventiveness, questing spiritual intelligence and animal fixation aren't easy to do justice to in the limited space here. But they're irrefutably good reasons to discover him for yourself." – Janet Maslin, New York Times

"It will be tempting, but hard, for readers to choose a favorite among the stories here... Rich and complicated... These stories have that merry, postmodern humor, but also a classical love of real human emotion." -- Rebecca Lee, New York Times Book Review

"A debut collection that reads like the work of a much older, established fiction master. The stories in Pierce's book explore the ordinary in the otherworldly, the surreal in the mundane, and the results are stunning and unexpected.... Pierce is an endlessly incisive and engaging writer. It's a book full of wisdom and emotion, with stories that explore what it means to live and die in a world filled with invisible things." – NPR

"Pierce mines the mysterious rift between fantasy and reality with the intricate skill of an archaeologist and the sheer wonder of an imaginative child." —Elle

"Pierce's stories are beautifully written and suffused with mystery." – Emily St. John Mandel, The Millions

"[C]ompulsively addictive and delightfully strange.... Pierce's menagerie of colorful characters equally inspires and amuses. The book is expertly paced (there isn't a dud in this eclectic bunch) and many of the stories' endings—some sinister, some melancholic, others heartfelt—prompt momentary reflection, though thankfully not always in ways that are expected." 
—Publishers Weekly, STARRED review

"It's thrilling to find a writer with an imagination as wild and wonderful as Thomas Pierce. It's even more impressive to see how Pierce builds upon the initial conceit of his stories, the way he follows the thread of that weirdness toward something utterly unique and altogether human. This is a fantastic, rewarding book of stories."
—Kevin Wilson, author of Tunneling to the Center of the Earth and The Family Fang

"We're in the realm of the uncertain here, immersed in a view of life that teeters on the edge of parable as an organizing principle for this amazing collection of stories about the possible, the probable, the unknown, the ridiculous, the astonishing, the embarrassing, and also the just plain heartbreaking awkwardness of all kinds of hope and yearning, as we read about life lived in an echo chamber of the past that is now moving rocket-like into the future. It's a brilliant group of stories fueled by its inherent metaphors. Thomas Pierce has a delicate, shaping presence in all these stories, which are sure to be talked about, admired, and paraphrased nervously, because they take us out of the comfort of our known world."
—Ann Beattie

"This is a book that feels adventurous in scope, but is classically and skillfully wrought, even as it throws us into a future of genetic experimentation, loss, and change.  Humorous, absurd, and smart, Pierce's collection doesn't just give us the delicate, dangerous future, but also explores what it means to be a flawed, feeling human living within it - as the keeper of a resurrected species, a physicist with an active dream life, a bone collector.  A book that rewards and earns deep and repeated reading."
—Megan Mayhew Bergman, author of Almost Famous Women and Birds of a Lesser Paradise

"Thomas Pierce describes a world we may soon inhabit, where science advances but mystery endures. Extinct species are revived on TV, and near-extinct species are the local zoo's sellout draw; a new infectious disease defies attempts to identify or contain it, and physicists everywhere quest to identify a theoretical entity called the daisy particle. In this world, fractured families and lost souls — Pierce's deeper interests — are the norm. Wry, wrenching, and elegant."
—Brian Kimberling, author of Snapper

"This arresting debut collection of short fiction from a gifted new writergracefully renders the textures of the American South and the indefatigable people who live there…. Thomas Pierce's debut collection, Hall of Small Mammals, taps the aquifer of Southern literature but blends in supernatural elements with a light, deft touch, echoes of García Márquez among the biscuits and magnolias.... Pierce knows his people well, connecting their conflicts to a deeper narrative about the human condition…. With its elegant prose and revelatory insights, Hall of Small Mammals announces a vivid and engaging new voice." – Minneapolis Star Tribune

"Hall of Small Mammals is a skilled collection of explorations on what it means to believe. Pierce teases faith and science out into myriad scenarios, and highlights our principal desire to put our belief into worldviews that make sense of what we see. Each story is a journey into a different kind of observation. Hall of Small Mammals shows us that it might be our need to explain which makes us most human." – Bookslut

 "I was floored by Pierce's balance between authoritative control over his craft while maintaining an authentically quirky sensibility…Pierce shows reverence for the Southern Gothic tradition on which he draws, while also bringing in a fresh dose of modern irreverence. He's a huge talent — one to keep an eye on." —Bustle

 "[Pierce] balances the incredible incident in each story with powerful — and emotionally involving — insights into his characters." —Columbus Dispatch

 "Pierce clearly has talent to burn. A promising debut that studies hard-luck types from new and provocative perspectives." —Kirkus Reviews