All Adults Here: A Novel (Hardcover)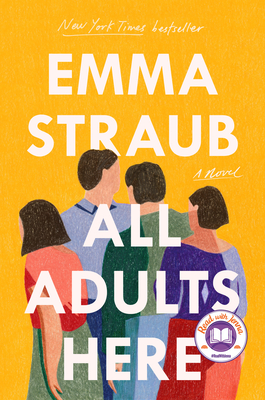 Staff Reviews
---
I have to admit, I was sad when this book ended. Emma Straub has written the most wonderfully compelling cast of characters in this great family drama and I grew to love and become invested in each one of their lives. Every character was so different from the next yet she wove their stories and experiences together so seamlessly. It was fascinating to read how they handled and reacted to unexpected situations, and to see the impact that their choices had on the lives of their loved ones both for better and for worse. This novel is so full of heart, and had me laughing and crying along with each member of this endearingly dysfunctional family.
— From
Miranda's picks
All Adults Here by Emma Straub is a true gem. If you love your parents, even begrudgingly, you should read this book; and if you're a parent then you should definitely read this book. Emma expertly examines all the minute choices a parent makes that can have profound and lasting effects on their children's lives. And she looks at parents as people - because we forget they are flawed human beings as well. Parents aren't perfect. The consequences of our parents decisions or lack thereof are often unintentional. Emma reminds us parents have histories and pasts and issues and existed far before we entered their lives and most are just doing their best. And that's what the Strick family is doing - their best. It's a novel about family and good intentions and empathy and understanding. And it is Emma's ABSOLUTE best yet! For readers of Ann Patchett, Meg Wolitzer and Jami Attenberg. Run don't walk, to pick up and read this book! — From Michelle's Picks
May 2020 Indie Next List
---
"A single sudden and shocking occurrence jolts Astrid Strick — widow, mother, and small-town stalwart — into reassessing her life, especially her failings with her three grown children. Even as she tries to find a path toward redemption, it's clear her offspring are nursing different hurts. Straub's lovely and charming comic novel explores the messy and dissonant truths that underpin the illusions we maintain about those closest to us. No one is at fault, and everyone is to blame. Even adults have to grow up. Utterly charming and completely engrossing."
— Anmiryam Budner, Main Point Books, Wayne, PA
Description
---
AN INSTANT NEW YORK TIMES BESTSELLER

A WASHINGTON POST NOTABLE BOOK OF THE YEAR

A PARADE BEST BOOK of 2020 * A GOOD HOUSEKEEPING BEST BOOK of 2020 

A TODAY SHOW #ReadWithJenna BOOK CLUB PICK!
"In a time when all we want is hope, it's a beautiful book to reach for." -Jenna Bush Hager

"Literary sunshine."—New York Times

"Brimming with kindness, forgiveness, humor and love and yet (magically) also a page turner that held me captive until it was finished. This is Emma Straub's absolute best and the world will love it. I love it." —Ann Patchett
 

A warm, funny, and keenly perceptive novel about the life cycle of one family--as the kids become parents, grandchildren become teenagers, and a matriarch confronts the legacy of her mistakes. From the New York Times bestselling author of Modern Lovers and The Vacationers.


When Astrid Strick witnesses a school bus accident in the center of town, it jostles loose a repressed memory from her young parenting days decades earlier. Suddenly, Astrid realizes she was not quite the parent she thought she'd been to her three, now-grown children. But to what consequence?

Astrid's youngest son is drifting and unfocused, making parenting mistakes of his own. Her daughter is pregnant yet struggling to give up her own adolescence. And her eldest seems to measure his adult life according to standards no one else shares. But who gets to decide, so many years later, which long-ago lapses were the ones that mattered? Who decides which apologies really count? It might be that only Astrid's thirteen-year-old granddaughter and her new friend really understand the courage it takes to tell the truth to the people you love the most.

In All Adults Here, Emma Straub's unique alchemy of wisdom, humor, and insight come together in a deeply satisfying story about adult siblings, aging parents, high school boyfriends, middle school mean girls, the lifelong effects of birth order, and all the other things that follow us into adulthood, whether we like them to or not.
About the Author
---
Emma Straub is the New York Times-bestselling author of three other novels The Vacationers, Modern Lovers, Laura Lamont's Life in Pictures, and the short story collection Other People We Married. Her books have been published in twenty countries. She and her husband own Books Are Magic, an independent bookstore in Brooklyn, New York.
Praise For…
---
Praise for All Adults Here:

"A quaint Hudson Valley town, an endearing matriarch, a goat cheese farm —Straub's modern saga of a complicated family web is a literary security blanket."—Entertainment Weekly

"You'll never want to say goodbye to the Strick family of All Adults Here, Emma Straub's charming fourth novel." —O, The Oprah Magazine
 
"To describe Emma Straub's novel All Adults Here without using the word 'charming' is like trying to describe an accordion without using your hands. But winsome and big-hearted do fine to characterize Ms. Straub's loosely knit, multigenerational fourth novel …Tight, flinty Astrid…seems like close kin to Elizabeth Strout's Olive Kitteridge." —The Wall Street Journal
  
"A master analyst of romantic relationships, Straub trains her eye on family dynamics and small-town life in this witty and wise tale." —People Magazine
 
"Delivers a Dose of Normal Life, Right When We Need It. . .  Straub cements her status as a master of the domestic ensemble drama."—TIME

"Emma Straub's warm-hearted fourth novel confirms her reign as a patron saint of delayed adolescence."—NPR

"'Literary sunshine' is a good way to think of Straub's work. Her writing and tone are consistently bright and straightforward; her approach to character is warm and generous . . . The main pleasures of All Adults Here ome from Straub's wry comic instincts (a pair of hyperaggressive twin toddlers are hilariously appalling) and her gimlet eye for cultural observation  . . . Her wit extends out from the individual characters into a larger commentary on the difficulties of becoming an adult, making this an especially rich addition to the author's body of work."  —The New York Times

"A beach read with teeth." —The New Republic

"Undeniably pleasing . . . a kind of thinking-person's beach read that's maybe all the better for arriving in these strange, landlocked times."—Entertainment Weekly

"It's a credit to Straub's gifts of wit and observation that she's made such a loving book so alive. Reading All Adults Here, you feel like maybe your life isn't so small, that its minor joys and pitfalls are worthy of literature. If only Straub could be the one to document it."—USA Today

"Deliciously funny and infectiously warm … It's an ideal read for anyone trapped at home with their family while self-isolating. Read it while hiding in your bedroom from the people who are driving you crazy, but who you'd go crazy without." The Philadelphia Inquirer
 
"There's no drama like family drama as Emma Straub (Modern Lovers, Other People We Married) proves in this touching, humorous, and eye-opening new novel." —Town and Country 
  
"Triumphant." —The Daily Beast

"An immensely charming and warmhearted book. It's a vacation for the soul."—Vox

 "A warm, smart novel that feels both very 'now,' but also timeless in its survey of a family trying to become one again."—Salon

"Fresh and funny. . .  ripe with the kind of juicy gossip perfect for swapping with a favorite sibling via late-night, hushed phone calls. . . ."—The Washington Post

 "There's refuge to be found in stories of everyday people going about their lives. . . . Emma Straub has become adept at finding amusement in the mundane, and her newest, All Adults Here, might just be her best yet." —O, The Oprah Magazine

"The queen of the summer novel."—Entertainment Weekly
 
"Straub's best book yet . . .excellent book-group fodder."—The Washington Post

"Emma Straub's writing is witty, informal and deceptively simple, drawing readers in as if they're having a conversation with a close friend."  —BookPage

"All Adults Here is a master class on the small-scale American drama. . . this warm, optimistic novel argues that one should keep trying, regardless. All Adults Here affirms the value of community and family, no matter the strife that may rise up within them." —Vogue

"The perfect book to read during quarantine if your family is driving you crazy . . . a layered love story that examines, and ultimately celebrates, the modern, multigenerational family dynamic."—Parade
 
 "This new novel from New York Times bestselling author of The Vacationers and Modern Lover is at its core about family in all its loving, messy glory… It's a page-turner that will make you think about what binds families together and drives them apart." —Good Morning America

"All Adults Here is a novel about how we try and fail at every age and yet somehow survive. It is brimming with kindness, forgiveness, humor and love and yet (magically) is also a page turner that held me captive until it was finished. This is Emma Straub's absolute best and the world will love it. I love it."—Ann Patchett, New York Times bestselling author of Commonwealth

"A totally engaging and smart book about the absolutely marvelous messiness of what makes up family; a wonderful book." —Elizabeth Strout, New York Times bestselling and Pulitzer Prize winning author of Olive Kitteridge and Olive, Again

"Emma Straub's All Adults Here will make you question your entire childhood, and how much your parents influenced it as you learn one mother's perspective of what went right and what went wrong with her own family."—Marie Claire

"No one writes family drama like Straub, and in her new novel All Adults Here, she brings the Strick family to life with her unique wit and wisdom. . . .  It's a heartfelt, grounded story about family dynamics, forgiveness, and the unavoidable effects we have on those we love."—Buzzfeed
Coverage from NPR