Horrorstor: A Novel (Paperback)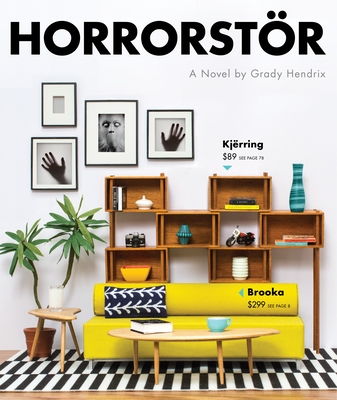 $16.99

Not Available In-Store - Usually Ships from Warehouse in 1-5 Days
Staff Reviews
---
Styled after an Ikea catalog, this horror novel delighted my inner typesetting/design nerd. Then it played to my sympathies by starring a cast of characters that work for the great and powerful Orsk--an Ikea knock-off store. The eclectic group of "team partners" is drafted by the store's fearless leader to solve the reoccurring problems that keep cropping up in the off hours of the store. A couple of them suspect the property's shady past as a panopticon-style prison in the 19th century might play a role in the late-night shenanigans. The creep-factor in this frequently grotesque story had me continuing to keep my back to the wall to prevent being ambushed by an army of blank faced penitents wanting to "reform" me.
—
CHRIS'S STAFF PICKS
Description
---
From the New York Times best-selling author of The Southern Book Club's Guide to Slaying Vampires comes a hilarious and terrifying haunted house story in a thoroughly contemporary setting: a furniture superstore.

Something strange is happening at the Orsk furniture superstore in Cleveland, Ohio. Every morning, employees arrive to find broken Kjerring bookshelves, shattered Glans water goblets, and smashed Liripip wardrobes. Sales are down, security cameras reveal nothing, and store managers are panicking.
 
To unravel the mystery, three employees volunteer to work a nine-hour dusk-till-dawn shift. In the dead of the night, they'll patrol the empty showroom floor, investigate strange sights and sounds, and encounter horrors that defy the imagination.
About the Author
---
Grady Hendrix is an award-winning and New York Times best-selling novelist and screenwriter living in New York City. He is the author of Horrorstör, My Best Friend's Exorcism (which is being adapted into a feature film by Amazon Studios), We Sold Our Souls, The Southern Book Club's Guide to Slaying Vampires, and The Final Girl Support Group. Grady also authored the Bram Stoker Award–winning nonfiction book Paperbacks from Hell and These Fists Break Bricks: How Kung Fu Movies Swept America and Changed the World.
Praise For…
---
"Horrorstör delivers a crisp terror-tale...[and] Hendrix strikes a nice balance between comedy and horror."—TheWashington Post

"Disarming."—The Wall Street Journal

"Wildly inventive...Hendrix delivers both a palm-sweating horror story and a laugh-out-loud satire of retail."—Esquire

"Hendrix conjures up some wonderfully gruesome imagery."—Nerdist

"An inventive, hilarious haunted house tale."—Bustle

"Hendrix's one-of-a-kind novel is an innovative hybrid of ghost story and satire, at once clever, gruesome, and hilarious."—Amazon Book Review
 
"If you've ever been frustrated trying to put together furniture from IKEA, you'll get a laugh out of Hendrix's spoof mystery."—New York Post

"Hendrix is an engaging writer."—Santa Fe New Mexican

"A clever little horror story...[and] a treat for fans of The Evil Dead or Zombieland, complete with affordable solutions for better living."—Kirkus Reviews

"A fun horror novel."—Library Journal
 
"A very clever ghost story."—Booklist

"The book's packaging as a catalog—complete with illustrations of increasingly sinister-looking furniture with faux Scandinavian names—gives it a charmingly oddball allure."—Publishers Weekly

More praise for Grady Hendrix:
"National treasure Grady Hendrix follows his classic account of a haunted IKEA-like furniture showroom, Horrorstor (2014), with a nostalgia-soaked ghost story, My Best Friend's Exorcism."—The Wall Street Journal, on My Best Friend's Exorcism

"Pure, demented delight."—The New York Times Book Review, on Paperbacks from Hell

"Terrific... Sharply written... [My Best Friend's Exorcism] makes a convincing case for [Hendrix's] powers as a sharp observer of human behavior."—The A.V. Club, on My Best Friend's Exorcism

"Hendrix's darkest novel yet will leave readers begging for an encore."—Booklist, starred review, on We Sold Our Souls

"A true appreciation of the genre."—Los Angeles Times, on Paperbacks from Hell

"Campy. Heartfelt. Horrifying."—Minnesota Public Radio, on My Best Friend's Exorcism

"Clever, heartfelt, and get-under-your-skin unnerving."—Fangoria, on My Best Friend's Exorcism

"A good, creepy, music-tinged thriller."—CNET, on We Sold Our Souls