How to Succeed in Business Without Really Crying: Lessons From a Life in Comedy (Hardcover)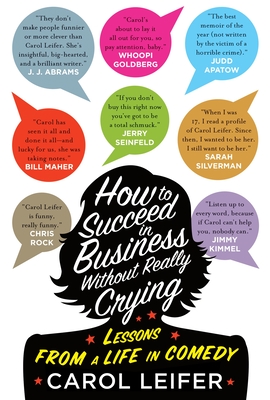 $19.95

Not Available In-Store - Usually Ships from Warehouse in 1-5 Days
Description
---
A prolific comedy writer of Saturday Night Live and Seinfeld fame reflects on what it takes to get ahead in showbiz in this "remarkable memoir that's packed with anecdotes, advice and humor" (Steve Martin)
 
For many years, television comedy was an exclusive all boys' club—until a brilliant comedian named Carol Leifer came along, blazing a trail for funny women everywhere. From Late Night with David Letterman and Saturday Night Live to Seinfeld, The Ellen Show, and Modern Family, Carol has written for and/or performed on some of the best TV comedies of all time.
 
This hilarious collection of essays charts her extraordinary three-decade journey through show business, illuminating her many triumphs and some missteps along the way—and offering valuable lessons for women and men in any profession. Part memoir, part guide to life, and all incredibly funny, How to Succeed in Business without Really Crying offers tips and tricks for getting ahead, finding your way, and opening locked doors—even if you have to use a sledgehammer.
About the Author
---
Carol Leifer is a four-time Emmy nominee for her writing on such shows as Seinfeld, Modern Family, Saturday Night Live, The Larry Sanders Show, and seven Academy Awards telecasts. She has starred in five of her own comedy specials, which have aired on Showtime, HBO, and Comedy Central. Her previous book was the national best seller When You Lie about Your Age, the Terrorists Win.
Praise For…
---
"...how can you not love a book that offers useful life lessons under chapter headings like 'So I Stole Soda From Aaron Spelling'?"
—New York Times Book Review

"Part Lean In, part Saturday Night Live, Carol Leifer serves up some side-splitting work and life advice in How to Succeed in Business without Really Crying."
—Ladies Home Journal

"…a brisk, level-headed tome that skips self-aggrandizing and goes straight to the real-world wisdom."
—TheSpitTake.com
 
"In this witty, well-written book, Leifer anecdotally explores her own career in comedy while explaining the pitfalls of adulthood."
—Edge

"Who needs a life coach when you have Carol Leifer?"
—AfterEllen.com

"...a smart...and entertaining memoir..."
—Tampa Bay Times
 
"Equal parts memoir and showbiz staying power guidebook, How to Succeed in Business Without Really Crying highlights Leifer's straight-forward advice, which applies to anyone in any profession who wants to maintain genuine, civil ties with his or her peers."
—Florida Times-Union

"An amusing, amiable read."
—Kirkus Reviews

"A remarkable memoir that's packed with anecdotes, advice and humor, all while maintaining a high level of dignity and self-awareness."
—Steve Martin
 
"The only thing more impressive than Carol's success is how she has retained and polished all the lessons she's learned along the way. And the fact that she has decided to throw them your way for just a few bucks is such a ridiculously good opportunity for you, I can hardly believe it! If you don't buy this right now you've got to be a total schmuck."
—Jerry Seinfeld
 
"When I was 17, I read a profile of Carol Leifer. Since then, I wanted to be her. I still want to be her."
—Sarah Silverman
 
"They don't make people funnier or more clever than Carol Leifer. She's insightful, big-hearted, and a brilliant writer."
—J. J. Abrams
 
"Carol's about to lay it all out for you, so pay attention, baby."
—Whoopi Goldberg
 
"The best memoir of the year (not written by the victim of a horrible crime)."
—Judd Apatow
 
"Listen up to every word, because if Carol can't help you, nobody can."
—Jimmy Kimmel
 
"Carol has seen it all and done it all—and lucky for us, she was taking notes."—Bill Maher
 
"Carol Leifer is funny, really funny."
—Chris Rock
 
"To survive in life, you need a major trust fund and/or a sugar daddy. Carol has neither, but she's still managed to come out way ahead. Here's how she did it, and how you can, too."
—Joan Rivers
 
"Funny and sage. A great read. I even loved the parts that weren't about me."
—Paul Reiser
 
"Carol's gift is that she sees ordinary, everyday things in a very funny way. She's made other comics say, Why didn't I think of that?"
—Jay Leno
 
"I was sad when I finished this book. I don't know if it's because I didn't want it to end, or because I'm just sad in general."
—Larry David
 
"Carol is relentless, and an entrepreneur to the core. Read this book and learn! I have no doubt she will corner you if you don't!"
—Mark Cuban
 
"I've been in the comedy business for 30 years and thought I'd seen and heard it all…until I read Carol's book! It's witty, classy, and filled with real-life advice gleaned from her years of getting laughs and enjoying success."
—Caroline Hirsch, founder of the legendary New York comedy club Carolines