The Spectacular Sisterhood of Superwomen: Awesome Female Characters from Comic Book History (Hardcover)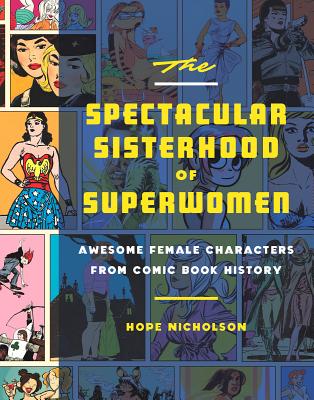 Staff Reviews
---
Comics have never been afraid to showcase strong females. From superpowered juggernauts like Wonder Woman and Ms. Marvel to super-spies like Tiffany Sinn, this book covers the most ground-breaking women to grace newsstands and comic book shops. While the first two installments of the Comic Book History series focused on the strange and regrettable characters from comics, the women covered in Nicholson's book are definitely the cream of the crop. Granted, some of Marvel's top female characters didn't make the cut here (Storm, Rogue, Jean Grey, Pepper Potts, Jessica Jones) so Marvelites may be a bit disappointed, but the rich history of comic book women is most assuredly showcased here.
—
Scott
Description
---
A woman's place is saving the universe.
 
Think comic books can't feature strong female protagonists? Think again! In The Spectacular Sisterhood of Superwomen you'll meet the most fascinating exemplars of the powerful, compelling, entertaining, and heroic female characters who've populated comic books from the very beginning. This spectacular sisterhood includes costumed crimebusters like Miss Fury, super-spies like Tiffany Sinn, sci-fi pioneers like Gale Allen, and even kid troublemakers like Little Lulu. With vintage art, publication details, a decade-by-decade survey of industry trends and women's roles in comics, and spotlights on iconic favorites like Wonder Woman and Ms. Marvel, The Spectacular Sisterhood of Superwomen proves that not only do strong female protagonists belong in comics, they've always been there.
About the Author
---
Hope Nicholson is the owner and founder of Bedside Press, specializing in archival and anthology comics collections such as Moonshot (a collection of Inuit, Metis, and First Nations comic book stories) and The Secret Loves of Geek Girls (an all-female comic and text anthology of true stories of geeky love). She's a consulting editor for Margaret Atwood's Angel Catbird (Dark Horse Comics, 2016). She's been featured in the Winnipeg Free Press, Toronto Star, the Globe & Mail, ComicsAlliance.com, BleedingCool.com, and io9.com, and is a frequent speaker on women in fandom, comic book history, and publishing at conventions and other events.
Praise For…
---
"An upbeat celebration of women in comics."—J.D. Biersdorfer, New York Times Book Review

"A showcase for powerful women who range in sexuality, skin color, and spunk...this collection is an awesome reminder that feminists have been fighting the good fight in comics since before many of us were born."—BUST

"[The Spectacular Sisterhood of Superwomen] is a book I'm proud to have on my shelf."—SyFy's Fangrrls

"An amazing compilation that is sure to introduce you to at least one superheroine of which you were unaware."—Geeks of Doom

"Comic book heroines have come a long way and not always by the expected routes, as Nicholson, founder of Bedside Press, traces in this informative and entertaining encyclopedia of female characters in comics."—Publishers Weekly 

"This book is an uplifting reminder of the superheroines who have inspired us for almost a century and continue to do so in both comics and film today."—ComicBook.com

"Fans of comics and graphic novels will love this passionate endorsement of female characters through comic history."—Georgia Christgau, School Library Journal 

"Since superheroes, female and otherwise, permeate so much of our current culture, it's a real treat to get such rich history of how characters such as Carol 'Ms. Marvel' Danvers emerged and evolved, and Nicholson is a trustworthy, knowledgeable guide."—Publishers Weekly

"A wonderfully entertaining and informative read; Hope Nicholson has captured the distinct core of every character, from famed icons to the forgotten heroines she's resurrected from the back issue bin of comic book history."—Tim Hanley, Author of Wonder Woman Unbound, Investigating Lois Lane, and The Many Lives of Catwoman.

"In her snappy, irreverent style, tour guide Hope Nicholson takes us on a spectacular trip through time with stops to visit a crew of comic book heroines who range from the grotesque to the awesome.  Some of this sisterhood of superwomen lasted only one issue, others have inspired us for up to 75 years, they are all fascinating.  Thanks, Hope, for the time travel!"—Trina Robbins, Author of Last Girl Standing, Babes in Arms, and A Minyen Yidn 
 
"The Spectacular Sisterhood of Superwomen is a wonderfully informative and oftentimes personal exploration of the leading women of comics from past to present. Hope Nicholson has created an intimate tome that very well may hold the keys to inspiring more women in comics—both on the page and behind the brush."—Gerard Way, writer of Doom Patrol & The Umbrella Academy

"The Spectacular Sisterhood of Superwomen is an in depth catalog of the only thing I like better than comic book superheroes: comic book superheroines. Nicholson pulls from both the back and front of the long box, critiquing well-known favorites and revealing little known gems."—Tim Seeley, writer of Revival, Hacks/Slash, and Nightwing 

"Nicholson's work is rife with revelations for both the casual and not-just-the-movies comics fan."—Brooklyn Magazine

"A fun...humorous survey."—The Sacramento Bee 

"A very well-written book that will make comics fan salivate."—The Daily Times

"Nicholson is a true comics geek, whose love of the medium as a whole is evident in every page of Superwomen."—Broken Frontier

"The Spectacular Sisterhood of Superwomen is an absolute MUST BUY."—Rogues Portal

"If you're looking for an example of how far comics have come in terms of equal representation, look no further than Hope Nicholson's The Spectacular Sisterhood of Superwomen."—Doom Rocket 

"I like the mix of history, pop culture, and a little bit of reference. [The Spectacular Sisterhood of Superwomen] is more akin to a heavily illustrated coffee-table book, allowing for browsing short entries about superheroes such as Wonder Woman and Jessica Jones and cult favorites such as Emily the Strange."—Library Journal 

"Profusely illustrated, impressively informative, exceptionally written, organized and presented."—Midwest Book Review

"The characterizations of women in comics have come a long way since the 1930s, which is where Hope Nicholson begins her decade-by-decade review of famous, representative, quirky, or otherwise notable heroines in her thoroughly enjoyable book The Spectacular Sisterhood of Superwomen."—Foreword Reviews

"Nicholson doesn't spend too long analyzing any one character—even Wonder Woman, Supergirl, and Batgirl, despite being named 'Hero of the Decade' of the 1940s, '50s, and '60s, respectively, garner only a couple of pages of commentary apiece. It's a good choice, allowing Nicholson to cover a greater number of lesser-known characters, which she does in a breezy, conversational style (ripe with parenthetical notes and explanations, not to mention reprinted art), that's immensely fun to read." —Foreword Reviews 

"Nicholson intimately and thoughtfully introduces readers to 100 impassioned, smart, strategic, and plucky heroines."—The Georgetown Voice