My Best Friend's Exorcism: A Novel (Paperback)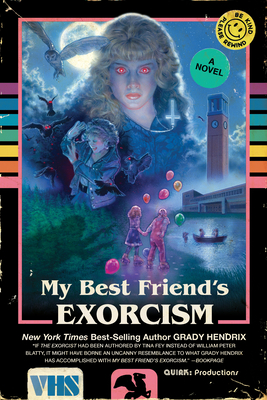 Staff Reviews
---
When I finished reading this book, I legitimately had trouble getting to sleep, which is just about the highest praise I can offer a horror novel. But it wasn't fear alone that kept me awake – it was a maelstrom of emotions, storming in my mind. I was frightened, yes, but I was also delighted, disturbed, depressed, amused, and absolutely giddy with excitement, all at the same time. My Best Friend's Exorcism packs a hell of a punch. Grady Hendrix takes classic horror themes and adds his own flair to them, twisting them around until they defy all expectations and become something entirely new. The result is bold, quirky, sometimes cheesy, and always deliciously creepy. It made me laugh, it made me cry, and it made me hide under the covers, peeking out only to double check that I had locked my bedroom door. You've never seen an exorcism like this one before, and you don't want to miss it.
—
Jason
June 2016 Indie Next List
---
"Abby and Gretchen are the best of friends. They have navigated through all the adolescent pros and cons that came with growing up in the late '80s: zits, big hair, getting the nod from senior class heartthrob Tommy Cox, and -- demonic possession? Written in Hendrix's unique, darkly comedic, and slightly twisted voice, My Best Friend's Exorcism is that quirky and satiating page-turner that fans of Horrorstor have been salivating for."
— Angelo Santini (E), McLean & Eakin Booksellers, Petoskey, MI
Description
---
From the New York Times best-selling author of The Southern Book Club's Guide to Slaying Vampires, this unholy hybrid of Beaches and The Exorcist blends teen angst and unspeakable horrors into a pulse-pounding supernatural thriller.

The year is 1988. High school sophomores Abby and Gretchen have been best friends since fourth grade. But after an evening of skinny-dipping goes disastrously wrong, Gretchen begins to act…different. She's moody. She's irritable. And bizarre incidents keep happening whenever she's nearby. Abby's investigation leads her to some startling discoveries—and by the time their story reaches its terrifying conclusion, the fate of Abby and Gretchen will be determined by a single question: Is their friendship powerful enough to beat the devil?
About the Author
---
Grady Hendrix is an award-winning and New York Times best-selling novelist and screenwriter living in New York City. He is the author of Horrorstör, My Best Friend's Exorcism (which is being adapted into a feature film by Amazon Studios), We Sold Our Souls, The Southern Book Club's Guide to Slaying Vampires, and The Final Girl Support Group. Grady also authored the Bram Stoker Award–winning nonfiction book Paperbacks from Hell and These Fists Break Bricks: How Kung Fu Movies Swept America and Changed the World.
Praise For…
---
"National treasure Grady Hendrix follows his classic account of a haunted IKEA-like furniture showroom, Horrorstor (2014), with a nostalgia-soaked ghost story, My Best Friend's Exorcism."—The Wall Street Journal

"Take The Exorcist, add some hair spray and wine coolers, and enroll it in high school in 1988 — that'll give you My Best Friend's Exorcism...Campy. Heartfelt. Horrifying."—Minnesota Public Radio
 
"Clever, heartfelt, and get-under-your-skin unnerving."—Fangoria 

"A touching story of high school friendship and, well, demonic possession."—Bloody Disgusting
 
"Terrific...Sharply written...[My Best Friend's Exorcism] makes a convincing case for [Hendrix's] powers as a sharp observer of human behavior, filtered through a fun genre conceit that doesn't skimp on the spooky—or the bodily fluids."—The A.V. Club
 
"Think Mean Girls with demonic possession, set in 1988 Charleston. It's funny, it's heart-wrenching, it's even a little spiritual, in a very strange way."—Southern Living magazine
 
"The perfect mix of '80s nostalgia and scares."—POPSUGAR

"This book packs all the magic of a summer horror flick."—Bustle

"The rare exorcism book that will make you cry, My Best Friend's Exorcism is both a truly scary tale and a loving tribute to high school friendship."—Hypable 
 
"If you're looking for a good summer book, something for the beach or the back porch that won't insult your intelligence, one that's tense and sometimes scary and sometimes funny, with characters you may even come to like and admire as they come of age, keep My Best Friend's Exorcism in mind."—SFFWorld

More praise for Grady Hendrix:
"Pure, demented delight."—The New York Times Book Review, on Paperbacks from Hell

"Horrorstör delivers a crisp terror-tale...[and] Hendrix strikes a nice balance between comedy and horror."—The Washington Post, on Horrorstör

"Hendrix's darkest novel yet will leave readers begging for an encore."—Booklist, starred review, on We Sold Our Souls

"A true appreciation of the genre."—Los Angeles Times, on Paperbacks from Hell

"An inventive, hilarious haunted house tale."—Bustle, on Horrorstör
 
"A good, creepy, music-tinged thriller."—CNET, on We Sold Our Souls