Avatar: The Last Airbender - The Art of the Animated Series (Hardcover)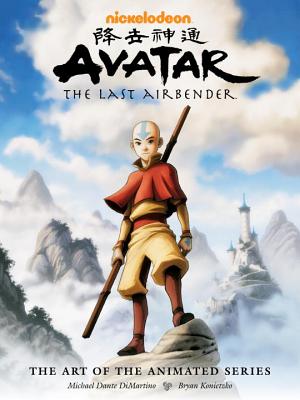 Staff Reviews
---
This artbook is a fantastic endcap to Avatar: The Last Airbender, (in my opinion) the most epic American cartoon series ever made. DiMartino and Konietzko include hundreds of sketches that really make you appreciate the effort, artistry, and research chops was put into, of all things, a children's cartoon. I definitely don't regret splurging on this one — the huge art spreads that detail the world building behind the show are worth the price of the book ten times over. It might be massively dorky to own, but hey, you gotta give respect where respect is due. There aren't a lot of television shows, let alone cartoons for children that are as finely crafted as Avatar, and this book proves it. - Jennie
— From
Graphic Novels (page 1)
Description
---
Since its debut in 2005, Avatar: The Last Airbender has remained one of Nickelodeon's most talked about and highest-rated animated series to date, and it's not too hard to see why... Not only does it offer an epic storyline, engaging characters, action, adventure, and a powerful message about the importance of hope in a world long-besieged by war, all the while serving up top-notch entertainment. It's also beautifully executed, a stunning masterpiece of animated storytelling that harmonizes Western influences with aesthetic inspiration drawn from a diverse array of cultures, including those of China, Japan, India, and the Inuit.

An unprecedented look at the concept, design, and production art behind this smash-hit series, Avatar: The Last Airbender, The Art of the Animated Series chronicles the show's development — from the very first sketch through to the series finale and beyond! — along with behind-the-scenes commentary from series creators Bryan Konietzko and Michael Dante DiMartino.

* Featuring hundreds of images, most of which Nickelodeon has never released to the public!
About the Author
---
Bryan Konietzko is a director, writer, and producer. Konietzko is a cocreator of Avatar: The Last Airbender and The Legend of Korra. He was educated at the Rhode Island School of Design.

Michael Dante DiMartino is an American animation director best known as the cocreator, executive producer, and story editor of the animated TV series Avatar: The Last Airbender and The Legend of Korra, both on Nickelodeon. He was born in Shelburne, Vermont. He studied at the Rhode Island School of Design with Bryan Konietzko, with whom he created Avatar. Before Avatar, Mike worked for twelve years at Film Roman, helping to direct King of the Hill, Family Guy, and Mission Hill in addition to his own animated short, Atomic Love. The author lives in Santa Monica, California.