Applesauce Season (Hardcover)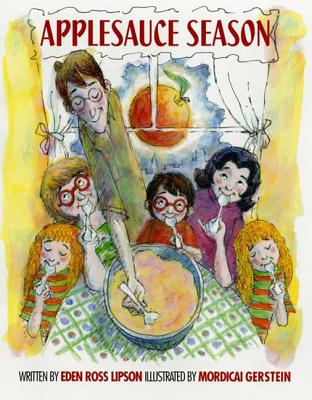 Staff Reviews
---
We may not feel it in the air but apples are ready to eat and be made into yummy treats, like applesauce! In this tale, you'll learn all about different types of apples and the delicious desserts that can be made with them from a young child who can't wait for Applesauce Season! As a bonus, there is an old fashioned recipe for applesauce at the end of the book! Kids, parents and grandparents will love sharing this story and creating a tasty snack together. It's a bushel of fun! — From Brandi's Picks (page 3)
Description
---
A taste of fall: Celebrated editor Eden Lipson and Caldecott Medal winner Mordicai Gerstein celebrate a fall family ritual in Applesauce Season, a picture book rich with the colors and flavors of the season.
When the first apples of the season--Ida Red and Paula Red, Twenty Ounce, McIntosh, and Ginger Gold--show up in the city markets, it's time to take out the big pot and make applesauce. A lovingly recounted description of a family's applesauce-making ritual describes the buying, peeling, cooking and stirring; the wait for the sauce to cool and the first taste.
Mordicai Gerstein's paintings are full of the colors and flavors of the season: red apples, orange leaves, blue skies. Here's a lovely picture book celebrating an American family tradition.
About the Author
---
Eden Ross Lipson was children's book editor of The New York Times Book Review until 2005, and is the author of the authoritative New York Times Parent's Guide to the Best Books for Children.

Mordicai Gerstein is the author and illustrator of The Man Who Walked Between the Towers, winner of the Caldecott Medal, and has had four books named New York Times Best Illustrated Books of the Year. Gerstein was born in Los Angeles in 1935. He remembers being inspired as a child by images of fine art, which his mother cut out of Life magazine, and by children's books from the library: "I looked at Rembrandt and Superman, Matisse and Bugs Bunny, and began to make my own pictures." He attended Chouinard Art Institute in Los Angeles, and then got a job in an animated cartoon studio that sent him to New York, where he designed characters and thought up ideas for TV commercials. When a writer named Elizabeth Levy asked him to illustrate a humorous mystery story about two girls and a dog, his book career began, and soon he moved on to writing as well as illustrating. "I'm still surprised to be an author," he says. "I wonder what I'll write next?" Gerstein lives in Westhampton, Massachusetts.
Praise For…
---
"[A] smartly observed, warm-hearted tale . . . . Happily there is more than enough for seconds." —The New York Times Book Review
"The angle of Dad's shoulders as he squeezes between everyone to reach in with his spoon is one of those brilliant details in a children's book that conveys the warmth of family." —Newsday
"Exuberant watercolors follow along as a happy urban family buys, quarters, cooks, seasons, purees and savors the thick gooey stuff. Get out the food mill. " —The San Francisco Chronicle
"His [Gerstein's] sly humor is a perfect match for the straightforward narrative, which ends with a recipe and a glimpse into the boy's sunny future–full of apples, of course." —School Library Journal
"The final page includes a detailed recipe and an illustration of the boy, now a dad, in the kitchen cutting apples with his daughter, sharing a smile." —Horn Book
"In a crowded orchard of apple books, this one stands out." —Kirkus Reviews
"A wonderful tribute to her [Eden Ross Lipson] considerable contributions and talents." —Starred, Publishers Weekly
"A wonderful story of apples, applesauce and family traditions." —Infodad.com