Burning Rainbow Farm: How a Stoner Utopia Went Up in Smoke (Hardcover)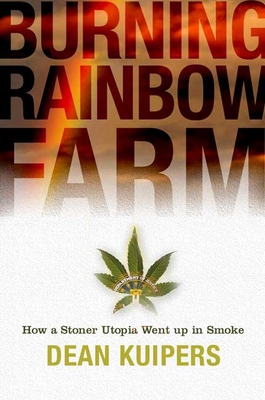 Description
---
The gripping story of two marijuana advocates gunned down by the FBI after a five-day standoff.
On a mission to build a peaceful, pot-friendly Shangri-La, Tom Crosslin and his lover Rollie Rohm founded Rainbow Farm, a well-appointed campground and concert venue tucked away in rural Southwest Michigan. The farm quickly became the center of marijuana and environmental activism in Michigan, drawing thousands of blue-collar libertarians and hippie liberals, evangelicals and militiamen to its annual hemp festivals. People came from all over the country to support Tom and Rollie's libertarian brand of patriotism: They loved America but didn't like the War on Drugs. As Rainbow Farm launched a popular statewide ballot initiative to change marijuana laws, local authorities, who had scarcely tolerated Rainbow Farm in the past, began an all-out campaign to shut the place down. Finally, in May 2001, Tom and Rollie were arrested for growing marijuana. Rollie's 11-year-old son, who grew up on Rainbow Farm, was placed in foster care - Tom would never see him again. Faced with mandatory jail terms and the loss of the farm, Tom and Rollie never showed up for their August court date. Instead, the state's two best-known pot advocates burned Rainbow Farm to the ground in protest. County officials called the FBI, and within five days Tom and Rollie were dead. Obscured by the attacks of September 11, their stories will be told here for the first time.
About the Author
---
Dean Kuipers is the deputy editor of Los Angeles City Beat and the author of I Am a Bullet and Ray Gun out of Control. His work has appeared in Rolling Stone, the Los Angeles Times, and Playboy. A native of Michigan (twenty miles from Rainbow Farm), he now lives in Los Angeles.
Praise For…
---
"We need more books written like this one. That seems to be the only way we are really going to find out the real truth on what is going on."--Carol Long, Carol's Paperback Plus, Waterford, MI



" An excellent look at the marijuana subculture, deluded or not, aspiring to the Middle-American mainstream."

-Kirkus


"Kuipers has given us a deftly reported glimpse into America's blue collar rural stoner subculture."-- Barbara Ehrenreich, Nickel and Dimed

-Barbara Ehrenreich