W.E.B. Du Bois: Black Reconstruction (LOA #350): An Essay Toward a History of the Part whichBlack Folk Played in the Attempt to ReconstructDemocracy in America, 1860–1880 (Hardcover)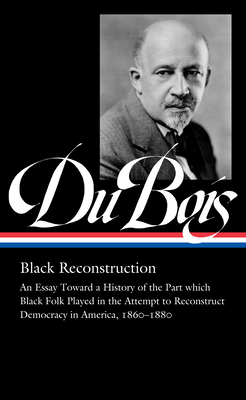 $45.00

Not Available In-Store - Usually Ships from Warehouse in 1-5 Days
Description
---
A definitive edition of the landmark book that forever changed our understanding of the Civil War's aftermath and the legacy of racism in America

Upon publication in 1935, W.E.B. Du Bois's now classic Black Reconstruction offered a revelatory new assessment of Reconstruction—and of American democracy itself. One of the towering African American thinkers and activists of the twentieth century, Du Bois brought all his intellectual powers to bear on the nation's post-Civil War era of political reorganization, a time when African American progress was met with a white supremacist backlash and ultimately yielded to the consolidation of the unjust social order of Jim Crow.

Black Reconstruction is a pioneering work of revisionist scholarship that, in the wake of the censorship of Du Bois's characterization of Reconstruction by the Encyclopedia Britannica, was written to debunk influential historians whose racist ideas and emphases had disfigured the historical record. "The chief witness in Reconstruction, the emancipated slave himself," Du Bois argued, "has been almost barred from court. His written Reconstruction record has been largely destroyed and nearly always neglected." In setting the record straight Du Bois produced what co-editor Eric Foner has called an "indispensable book," a magisterial work of detached scholarship that is also imbued with passionate outrage.

Presented in a handsome and authoritative hardcover edition prepared by Foner and co-editor Henry Louis Gates, Jr., Black Reconstruction is joined here for the first time with important writings that trace Du Bois's thinking throughout his career about Reconstruction and its centrality in understanding the tortured course of democracy in America.

About the Author
---
William Edward Burghardt Du Bois was born in 1868 in Great Barrington, Massachusetts. After graduation from Fisk University, he earned his Ph.D. from Harvard, studied in Berlin, and became pioneering historian and sociologist and the founding editor of The Crisis, the official magazine of the NAACP. His major works include The Souls of Black Folk, Black Reconstruction, and The Suppression of the African Slave-Trade. He died in Ghana in 1963 at the age of ninety-five.

Eric Foner is the author of many award-winning books on the Civil War and Reconstruction, including The Fiery Trial: Abraham Lincoln and American Slavery, winner of the Pulitzer Prize. He is DeWitt Clinton Professor Emeritus of History at Columbia University.

Henry Louis Gates, Jr. is the Alphonse Fletcher University Professor and Director of the Hutchins Center for African & African American Research at Harvard. He is the author of numerous books, including Stony the Road: Reconstruction, White Supremacy, and the Rise of Jim Crow, and has produced, written, and hosted an array of documentary films for public television, including Finding Your Roots and The African Americans: Many Rivers to Cross.
Praise For…
---
"The 2021 release of the Library of America's edition of "Black Reconstruction," edited by Eric Foner and Henry Louis Gates Jr., confirms the book's place in the pantheon of great works of enduring influence."  —Washington Post