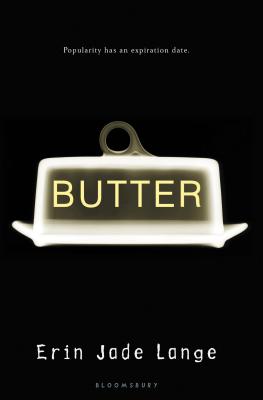 Staff Reviews
---
Butter is an intense look at one teen's struggle with food and depression. J.P. (aka "Butter") has an over-eating disorder and is dangerously obese. Tired of being the "fat kid" at school, he decides to end it all by binge eating to death on New Year's Eve, an act which will stream live on his website, butterslastmeal.com. When Butter's morbid website sweeps him into the "cool" crowd, he must decide if popularity is worth dying for. It takes courage to write a true to life story, unveiling a world we may not want to acknowledge. I think many teens will connect with Butter's quest for acceptance.
—
Brandi
Description
---
A lonely obese boy everyone calls "Butter" is about to make history. He is going to eat himself to death-live on the Internet-and everyone is invited to watch. When he first makes the announcement online to his classmates, Butter expects pity, insults, and possibly sheer indifference. What he gets are morbid cheerleaders rallying around his deadly plan. Yet as their dark encouragement grows, it begins to feel a lot like popularity. And that feels good. But what happens when Butter reaches his suicide deadline? Can he live with the fallout if he doesn't go through with his plans?
With a deft hand, E.J. Lange allows readers to identify with both the bullies and the bullied in this all-consuming look at one teen's battle with himself.
About the Author
---
Erin Jade Lange writes facts by day and fiction by night. As a journalist, she is inspired by current events and real-world issues and uses her writing to explore how those issues impact teenagers. She is an only child, which means she spent a lot of time entertaining herself as a kid. This required her to rely heavily on her own imagination, which is probably why she became a writer. Erin lives in Phoenix, Arizona. Butter is her debut novel.
www.butterslastmeal.com