The Spinner's Book of Yarn Designs: Techniques for Creating 80 Yarns (Hardcover)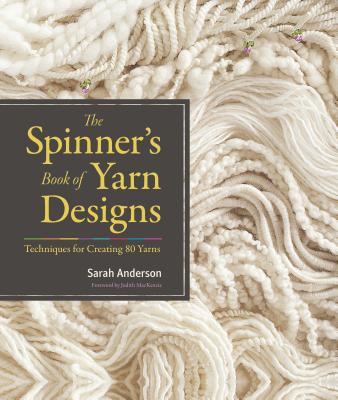 $29.95

Not Available In-Store - Usually Ships from Warehouse in 1-5 Days
Description
---
Discover the satisfying fun of spinning your own yarn! This step-by-step guide shows you how to create 80 distinctive yarn types, from classics like mohair bouclé to novelties like supercoils. Covering the entire spinning process, Sarah Anderson describes the unique architecture of each type of yarn and shares expert techniques for manipulating and combining fibers. Take your crafting to a new level and ensure that you have the best yarn available by spinning it yourself.
About the Author
---
Sarah Anderson learned to knit at a very young age and has been hooked on the fiber crafts ever since. She taught herself to spin at 13, but it was not until 1992 that she became serious about her spinning. She developed a new technique she calls "wrap and roll," which won her a cover on Spin Off magazine in 2008. She has taught at the Spin-Off Autumn Retreat (SOAR), contributed knit designs to All New Homespun and Handknit, and teaches at many venues. She lives near Snohomish, Washington.
Praise For…
---
This inspired resource for spinners details the dizzying array of techniques and tactics that turn fleece into yarn. Veteran spinner Anderson has created a veritable spinner's cookbook, detailing 80 lovely concoctions and confections, with suggestions for variations and further exploration. The opening chapter covers basic fiber preparation and spinning techniques. Chapters on singles, the spinner's basic building block, detail techniques for stand-alone singles and singles for plying; subsequent chapters cover spiral yarns, opposing plies, boucles, cable, crepe, coil, and novelty yarns. Delicious varieties such as spiral "flame yarn," "bubble crepe," "cloud yarn," and distinctive "pigtail yarn" are detailed. Beautiful illustrations and clear step-by-step diagrams are offered for each of the 80 yarns that are discussed, and pop-out boxes with tips, tricks, and food for thought (for example, "lace knitting: two-ply versus three-ply") pepper each chapter. The pages have thoughtful side tab labels to make finding the right section easy. Inventive, accessible, and fun, this book is an invitation to spinners of all skill levels to venture into uncharted territory and try out something new. This beautiful reference is an essential addition to any spinner's library.