Synchronicity: Nature and Psyche in an Interconnected Universe (Carolyn and Ernest Fay Series in Analytical Psychology #15) (Paperback)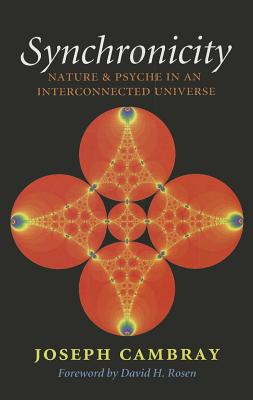 $19.95

Not Available In-Store - Usually Ships from Warehouse in 1-5 Days
Description
---
Also available in an open-access, full-text edition at http://oaktrust.library.tamu.edu/handle/1969.1/88024
In 1952 C. G. Jung published a paradoxical hypothesis on synchronicity that marked an attempt to expand the western world's conception of the relationship between nature and the psyche. Jung's hypothesis sought to break down the polarizing cause-effect assessment of the world and psyche, suggesting that everything is interconnected. Thus, synchronicity is both "a meaningful event" and "an acausal connecting principle." Evaluating the world in this manner opened the door to "exploring the possibility of meaning in chance or random events, deciphering if and when meaning might be present even if outside conscious awareness."

Now, after contextualizing Jung's work in relation to contemporary scientific advancements such as relativity and quantum theories, Joseph Cambray explores in this book how Jung's theories, practices, and clinical methods influenced the current field of complexity theory, which works with a paradox similar to Jung's synchronicity: the importance of symmetry as well as the need to break that symmetry for "emergence" to occur. Finally, Cambray provides his unique contribution to the field by attempting to trace "cultural synchronicities," a reconsideration of historical events in terms of their synchronistic aspects. For example, he examines the emergence of democracy in ancient Greece in order "to find a model of group decision making based on emergentist principles with a synchronistic core."

 
About the Author
---
JOSEPH CAMBRAY is the president-elect of the International Association for Analytical Psychology. He is a consulting editor of the Journal of Analytical Psychology, and coeditor of Analytical Psychology: Contemporary Perspectivces in Jungian Analysis (Brunner-Routledge, 2004). He resides in Providence, Rhode Island.
Praise For…
---
"In his study of
Synchronicity
, Joseph Cambray has masterfully blended the historical and known with the cutting and emerging edges of humanity's grasp of its inner and outer reality. He has managed to produce a book that a novice in Jungian studies would find comprehensible, and that C. G. Jung  himself would find compelling."--Beverley Zabriskie, Jungian Analyst and author of "A Meeting of Rare Minds", preface to
Atom and Archetype. The Pauli-Jung Correspondence
— Beverley Zabriskie
"Joe Cambray has been at the forefront of new developments in Jungian theory and practice over the last decade.  This book provides an opportunity to see the range and depth of his thinking on synchronicity in its entirety.  For Jung, synchronicity marked the furthest limit of his investigation of the nature of the psyche, but he also wrestled with the contradictions and dilemmas it presented.  Cambray finds the key to resolving these problems in the contemporary sciences of complexity, and carries us a great distance towards a more integrated understanding of Jung's initial insight.  Cambray's argument, that synchronicity can be seen as an emergent property of complex dynamic systems, allows him to shed light on the role synchronicity plays in a wide variety of phenomena, ranging from the clinical consulting room to the emergence of democratic governance in classical Greece. On the way, Cambray provides the most carefully thought through analysis of the relationship of Jung's original sense that synchronicity was compatible with modern particle physics—which he persistently sought to validate in his correspondence with Wolfgang Pauli—to be found in the current literature. Cambray's book is essential reading for anyone seeking a deeper understanding of this central element in C.G. Jung's system of psychology."--George B. Hogenson, author,
Jung's Struggle with Freud
— George B. Hogenson
"Cambray's book offers a different view of synchronicity than Jungian readers are used to encountering and his cutting-edge research and scholarship in physics, neuroscience and cultural history make this book a fine extension and contribution to the synchronicity literature."--Susan Meindl, C.G. Jung Society of Montreal
— Susan Meindl
" . . . one of the finest books in the Fay Series. . . Cambray has written the clearest and most coherent study to date on the subject of synchronicity. This book deserves to be widely read and disseminiated because in the past 'synchronicity' has been enshrouded with confusion and prejudice and the general reader has not been able to find a suitable point of entry into the debate. . . What is remarkable about this book is that Cambray takes synchronicity out of the confines of Jungian studies and links it to current research taking place in a variety of new and exciting fields in physics and the natural sciences."--Journal of Analytical Psychology
— David Tacey