Free Your Voice: Awaken to Life Through Singing (Paperback)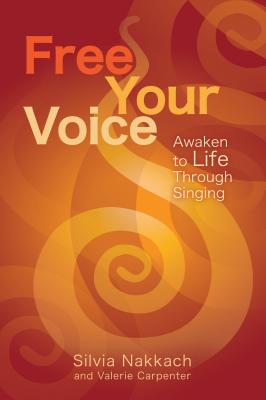 Staff Reviews
---
Silvia Nakkach offers us Yoga of the Voice, a path of personal devotion that brings us therapeutic and spiritual experiences involving the voice. She has studied classical Indian singing for over 30 years and incorporates it skillfully into her teaching of chanting from a variety of indigenous cultures. It is done in a call-and-response manner so memorization is not an issue and repetition is the method of learning to use our own voices as instruments of healing. Free Your Voice gives readers an opportunity to practice the exercises Silvia has gathered. It is accompanied by a free audio download from SoundsTrue.com which adds to a full experience of learning from this dynamic teacher, scholar, music therapist and Yoga of the Voice founder Silvia Nakkach. - Pinna
— From
Spirituality
Description
---
Science is beginning to prove what ancient cultures fully embraced: your voice can become one of the most powerful agents of transformation in every facet of your life. Free Your Voice offers you the liberating insights and personal instruction of music healing legend Silvia Nakkach, whose four-decade immersion in the voice as a creative force makes her a uniquely qualified educator. With co-author Valerie Carpenter, Silvia shows how to reclaim the healing potential of your voice (regardless of training or experience) through more than 100 enjoyable exercises that are steeped in spiritual tradition and classical vocal technique and backed by the latest science.


Free Your Voice invites us to "savor a banquet of our own divine sounds" as we practice breathwork, chant, and other yogic techniques for emotional release, opening to insight, and much more. Supplemented by 32 downloadable digital audio tracks offering Silvia's guidance through many of the exercises, here is a definitive resource for implementing the voice as an instrument of healing and fulfillment, exploring:

How to develop a practice of breath and voice, performed with consistency and imagination, where sound designs its own landscapes through the expressive power of the voice
• A series of sonorous yogic practices that involve subtle movements and the sustained focus of the mind in sound
• A gentle path for developing a voice that is fully embodied, uniquely expressive, and played like a fine musical instrument
• Invocatory words and ancient seed sounds that deliver explicit spiritual information for expansion of consciousness and well-being
• A beginning repertory of mantras and chants from many cultures that you can build on and share as you deepen your practice
• Techniques for vocal improvisation to engage your singing imagination and enrich your musical offerings
• How to foster confidence and kindness toward yourself as a vulnerable chanteur of the universal song
• How to cultivate singing as a spiritual practice for yourself and to serve a larger community


"With regular practice," writes Silvia, "vocalizing, singing, and chanting become an ordinary miracle that effortlessly leads you to a sense of self-confidence, compassion, and Love Supreme." Free Your Voice is your guide to discovering, opening, and revealing the full potential of your own voice.
About the Author
---
An internationally known pioneer in the field of sound and transformation of consciousness, Silvia Nakkach, MA, MMT, has cultivated a voice that transports listeners into the heart of devotion. Her vocal work ranges from traditional chants to contemporary vocal improvisations. She is also an award-winning composer, former music psychotherapist, teacher, and recording artist.

Nakkach is the founding director of Vox Mundi School of the Voice, an international project devoted to teaching and preserving sacred-music traditions. Vox Mundi students study the integrative use of sound and chant to transform consciousness, to support healing, and to revitalize singing as spiritual practice. Vox Mundi has schools in the San Francisco Bay Area, Brazil, and Argentina.

Nakkach is on the faculty of the California Institute of Integral Studies in San Francisco, where she created the Sound, Voice, and Music Healing certificate and also designed the academic master's degree in integrative health with a focus on sound healing. She travels worldwide to lead trainings in Yoga of the Voice, her signature program.

Nakkach's interest in indigenous music cosmology and spirituality has led her to collaborate with renowned Indian healers and South American shamans. In addition, she has studied Hindustani music with the late maestro Ali Akbar Khan, and Dhrupad singing with Dr. Ritwik Sanyal in Benares, India, where she travels annually with her students.

Nakkach, who holds degrees in music composition, psychology, music therapy, and music education, has written an opera (Amazonia Insight), released nine albums, and written many scholarly articles on the healing power of music. Her album, Ah: The Healing Voice, is played in hospitals and health-care centers to create a healing atmosphere before and after surgery. She has contributed to an extensive body of therapeutic vocal techniques that have become landmarks in the fields of sound healing and music therapy training.
Valerie Carpenter is the founding director of The Vestibule Center for Sound Healing and cofounder of the Bay Area Sound Healing Alliance. She is a Sound Healing practitioner with certifications from the California Institute of Integral Studies, the Kairos Institute of Sound Healing, Integrated Listening Systems, and the Vox Mundi School of the Voice. Valerie has also enjoyed a distinguished career as a professional writer and actress.
Mitchell Gaynor, MD, is a board-certified medical oncologist, internist, and hematologist. He is also a best-selling author, and has published numerous books, including Nurture Nature Nurture Health: Your Health and The Environment; The Healing Power of Sound: Recovery from Life-Threatening Illness Using Sound, Voice, and Music, Dr. Gaynor's Cancer Prevention Program (developed with Jerry Hickey, RPh); and Healing Essence: A Cancer Doctor's Practical Program for Hope and Recovery.



Dr. Gaynor pioneered the use of sound, chanting, and music in conjunction with metal and crystal singing bowls as an adjunct to conventional medical therapy. Dr. Gaynor has benefited thousands of patients via his ongoing healing sessions using meditation and chanting with Tibetan bowls, as well as his sponsorship of spiritual retreats in southern India. Dr. Gaynor is a frequent speaker and lecturer at hospitals, conferences, and universities throughout America and abroad. Dr. Gaynor was previously director of medical oncology at Weill-Cornell Medical College for Complementary and Integrative Medicine. He was also the director of medical oncology at the Strang Cancer Prevention Center, where he is still affiliated as a consultant.



He served on the executive review panel at the Department of Defense (Alternative Medicine for Breast Cancer Sector) and participated in the Smithsonian Institute's Symposium (New Frontier in Breast Cancer and the Environment). Dr. Gaynor has been consecutively listed in The Best Doctors in New York since 1997, and has served on the board of advisors for Healthy Living magazine and the Sass Medical Foundation. He also has been a member of the editorial board of Integrative Cancer Therapies.



In addition to his work with sound and singing bowls, he has published studies on oncology and the effects of environmental toxins on health in peer-reviewed journals such as Seminars in Hematology, The American Journal of Clinical Oncology, and The Proceedings of the American Society for Clinical Oncology and Environmental Health Perspectives. For his work, the New York State Assembly awarded him their Environmental Advocacy Award, and the Mid-Hudson Options Institute named him Environmental Advocate of the Year in 2002.



Dr. Gaynor is well-known in the media as an integrative medicine specialist and is frequently called upon to discuss such topics as nutritional aspects of cancer prevention; environmental threats to health; complementary cancer therapies; the dangers of carcinogens and health; and spirituality and healing. He has been featured in many national publications including the New York Times, Newsweek, Self, and GQ, as well as Healthy Living, Body and Soul, and Spirituality and Health.



His appearances on television and radio are extensive. In 1999, he was a guest on 29 radio shows. Last year, he taped shows for National Canada Radio, local stations in Vancouver, British Columbia, and stations throughout America. He has appeared widely on television, including CBS Evening News (with Dan Rather), ABC's Good Morning America, the Discovery Health Channel, Fox News, WNET-Channel 13 (with Dr. Frank Field), Healthy Living (with Jane Seymour), CBS' 48 Hours, and CNN's Your Health.



Dr. Gaynor received his medical degree from the University of Texas (Southwestern Medical School). He was a clinical fellow in hematology-oncology at the New York Hospital-Cornell Medical Center and a postdoctorate fellow in molecular biology at Rockefeller University. Dr. Gaynor is 47 years old and was born and raised in Plainview, Texas. He lives in New York City with his wife and two sons.
Praise For…
---
"Silvia Nakkach's new book, Free Your Voice, is a stunning and profound treatise on music and singing. It will become a classic text and inspiration to all who are interested in the meaning of music and specific techniques for becoming the singer and musician we want to be." —David Darling, winner of the 2010 Grammy for Best New Age Album

"Silvia Nakkach is a blazing light of creativity in the world, and this brightness radiates throughout the pages of this book and leaves the reader wanting to start singing! Influenced by some of the greatest musical geniuses and spiritual masters throughout the world, Free Your Voice brilliantly integrates world wisdom so that the ordinary Western student can quickly experience mysticism through singing and begin to practice the yoga of voice. I love this book!" —Mariana Caplan, PhD, author of The Guru Question and Eyes Wide Open

"Free Your Voice is a nourishing broth of ancient wisdom and contemporary practicality. Herein Silvia Nakkach teaches a broad range of specific methods to give your voice wings." —W.A. Mathieu, author of Bridge of Waves

"This book serves as a unique panorama of inspiration for your voice. Whether you are just beginning to find your voice or a professional ready for dozens of creative ways to interest your students, you will be touched by the breadth of Silvia's practical suggestions for renewing and refreshing your life through singing." —Don Campbell, author of The Mozart Effect and Healing at the Speed of Sound

"Silvia's book is an unconditional invitation to experience and embrace life through your voice. In the most poetic, masterful, and freeing way, you discover, through your voice, simple, profound sonic tools that encourage self-inquiry, personal healing, and spiritual empowerment." —Pat Moffitt Cook, PhD, author of Music Healers of Indigenous Cultures