Burnt Tongues (Paperback)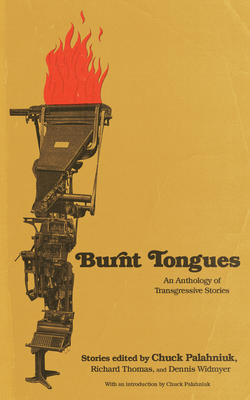 $14.95

Special Order - Subject to Availability
Staff Reviews
---
Right off the bat, editor Chuck Palahniuk describes the term burnt tongue as "a way of saying something, but saying it wrong, twisting it to slow the reader. Forcing the reader to read close, maybe read twice..." This anthology is the perfect embodiment of that statement. By the second story, my stomach had knotted up so bad, it almost made me sick, yet there were passages I simply couldn't not read twice just because they had so much power. Throughout the rest of the collection, I constantly found myself both exclaiming some version of "holy sh*t!" and texting a friend (a fellow Palahniuk lover) to ask her why I put up with such misery. The answer is simple. The writing in these stories, however graphic, is still brilliant. The language and style reek with Palahniuk's style of blending the horrific with the humorous in that dark way that leaves you wondering why you're laughing while simultaneously feeling like you're about to be ill, and yet, every piece is distinctly each author's own. This anthology is one where the writing will stick with you, and have you mulling over what you read for days to come.
—
STAFF PICKS BY HEATHER H.
Description
---
Transgressive fiction authors write stories some are afraid to tell. Stories with taboo subjects, unique voices, shocking images--nothing safe or dry. Burnt Tongues is a collection of transgressive stories selected by a rigorous nomination and vetting process and hand-selected by Chuck Palahniuk, author of Fight Club, as the best of The Cult workshop. These stories run the gamut from horrific and fantastic to humorous and touching, but each leaves a lasting impression. Some may say even a scar.
About the Author
---
Chuck Palahniuk's thirteen novels are the best-selling Fight Club, which was made into a film by David Fincher, Survivor, Invisible Monsters, Choke, which was made into a film by Clark Gregg, Lullaby, Diary, Haunted, Rant, Snuff, Pygmy, Tell-All, Damned, and Doomed. He is also the author of Fugitives and Refugees, a nonfiction profile of Portland, Oregon, published as part of the Crown Journeys series, and the nonfiction collection Stranger Than Fiction. He lives in the Pacific Northwest.

Richard Thomas is the author of three books--Transubstantiate, Herniated Roots, and Staring into the Abyss. His over 100 publications include Cemetery Dance, PANK, Gargoyle, Weird Fiction Review, Midwestern Gothic, Arcadia, Pear Noir!, Chiral Mad 2, and Shivers VI (with Stephen King and Peter Straub). He is also the editor of two anthologies out in 2014: The New Black (Dark House Press) and The Lineup: 25 Provocative Women Writers (Black Lawrence Press). In his spare time he writes for The Nervous Breakdown, LitReactor, and is editor in chief at Dark House Press. For more information visit www.whatdoesnotkillme.com.

Dennis Widmyer is the cofounder of ChuckPalahniuk.net, the official website of Chuck Palahniuk, as well as LitReactor.com, an online magazine, workshop, and educational program. He is also a Los Angeles-based filmmaker with three feature films to his name and a number of shorts, videos, and festival bumpers. For more information visit www.denniswidmyer.com.