The Herbal or General History of Plants: The Complete 1633 Edition as Revised and Enlarged by Thomas Johnson (Calla Editions) (Hardcover)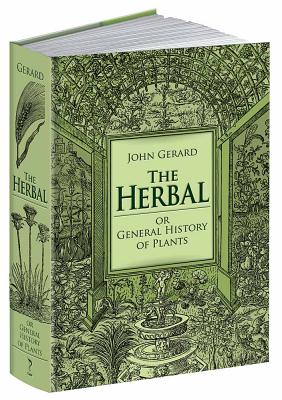 Description
---
John Gerard's Herbal or General History of Plants has long been the most famous English herbal. First published in 1597, it was republished in 1633 in an edition in which Thomas Johnson revised and enlarged the original text. A more capable botanist than Gerard, Johnson did not alter the wonderful Elizabethan prose of the earlier edition, but corrected errors in the old text and added much new material ― description and pictures ― to the text itself and in an appendix. This 1633 Gerard-Johnson edition describes about 2,850 plants and has about 2,700 illustrations: in both text and illustrations it is a lasting monument of Renaissance botany. At the same time, it remains what Gerard had made, perhaps unintentionally, of his 1597 work: a remarkable compendium of Elizabethan folklore and naturalistic description.
This vast storehouse of information and delightful commentary is divided into three books: the first book containing grasses, rushes, reeds, grains, irises, and bulbs; the second, food plants, medicinal plants, and sweet-smelling plants; the third, roses, trees, shrubs, bushes, fruit-bearing plants, rosin and gum-producing plants, heaths, mosses and fungi (as well as corals and sponges, then thought to be plants). For each plant the authors give its Latin and English name, the kinds (when they exist), a physical description, the place of growth, the time of growth, other names, temper (whether the plant is hot, cold, dry, or moist according to the traditional medical theory of humors), vertues (the medicinal properties, use as food, etc., ) and, in all but a small number of cases, a fine woodcut illustration.
In a clear and engaging prose style with large, handsome illustrations, the authors present an incredible harvest of plants: all your favorite flowers such as roses, marigolds, violets, and sunflowers; every kind of herb you can think of including sage, fennel, cumin, ginger, thyme, rosemary, and marjoram (and their medicinal "vertues") all manner of food plants such as oats, potato, and wheat; numerous trees like the cherry, peach, pear, cedar, oak, and maple; unusual plants like the goose tree and mandrake; a huge variety of medicinal plants including Solomon's seal (for broken bones), St. John's wort (used to treat wounds), and pennyroyal (for pains and giddiness in the head); and many, many more. For the herbal enthusiast truly interested in plants and their lore, this is the one herbal to have in its entirety.
About the Author
---
John Gerard (1545-1612) was an English gardener and botanist. First published in 1597, his great Herbal was largely based on an English translation of a Dutch source, Rembert Dodoens' Latin herbal of 1583, and most of the illustrations were also from previously published sources. Nevertheless, it quickly became the most popular and best known early English botany book.Thomas Johnson (d. 1644) was a London botanist and apothecary. He added about 800 species and approximately 700 new illustrations plus various corrections to Gerard's original text. He was about 40 years old when he died from wounds received during an English civil war battle.