The Scar Boys (Hardcover)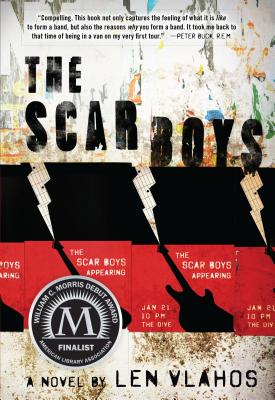 $17.99

Special Order - Subject to Availability
Description
---
A severely burned teenager. A guitar. Punk rock. The chords of a rock 'n' roll road trip in a coming-of-age novel that is a must-read story about finding your place in the world . . . even if you carry scars inside and out.

In attempting to describe himself in his college application essay--to help us to become acquainted with you beyond your courses, grades, and test scores--Harbinger (Harry) Jones goes way beyond the 250-word limit and gives a full account of his life. The first defining moment: the day the neighborhood goons tied him to a tree during a lightning storm when he was 8 years old, and the tree was struck and caught fire. Harry was badly burned and has had to live with the physical and emotional scars, reactions from strangers, bullying, and loneliness that instantly became his everyday reality. The second defining moment: the day in eighth grade when the handsome, charismatic Johnny rescued him from the bullies and then made the startling suggestion that they start a band together. Harry discovered that playing music transported him out of his nightmare of a world, and he finally had something that compelled people to look beyond his physical appearance. Harry's description of his life in his essay is both humorous and heart-wrenching. He had a steeper road to climb than the average kid, but he ends up learning something about personal power, friendship, first love, and how to fit in the world. While he's looking back at the moments that have shaped his life, most of this story takes place while Harry is in high school and the summer after he graduates.
About the Author
---
Len Vlahos is the Executive Director of BISG, and the former COO of the American Booksellers Association, where he worked for the past 20 years. At the ABA, he had overall responsibility for ABA's Winter Institute. So he knows booksellers and booksellers know him. Len has also worked in indie, chain, and university bookstores, was an on-air personality for a commercial radio station in Atlantic City, and worked for a time for Internet marketing guru Seth Godin. He was in a punk rock band in the mid-1980s. The Woofing Cookies toured and their music was played on dozens of college radio stations coast to coast. You can visit him online at www.lenvlahos.com and on Twitter @LenVlahos.