Abandoned Cars (Paperback)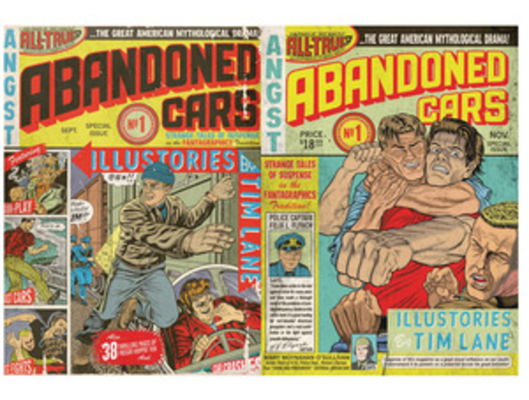 Staff Reviews
---
This book slapped me in the face—who am I? Why do I participate in a consumer culture that disgusts me? How does anyone break free & live outside society? And how do those people who succeed at going off the grid keep their sanity? Tim Lane's collection of graphic short stories, Abandoned Cars, is a brutal, gritty examination of the American Myth and what it's become, as well as a portrait of a consummate outsider and how he lives—perfect for those of us who question our 9-to-5 existence. - Sarah B.
— From
Graphic Novels (page 1)
Description
---
The acclaimed 2008 debut now in softcover—noirish, existential short comics.
Abandoned Cars is Tim Lane's first collection of graphic short stories, noirish narratives that are united by their exploration of the great American mythological drama by way of the desperate and haunted characters that populate its pages. Lane's characters exist on the margins of society—alienated, floating in the void between hope and despair, confused but introspective.
The writing is straightforward, the stories mainstream but told in a pulpy idiom with an existential edge, often in the first person, reminiscent of David Goodis's or Jim Thompson's prose, or of films like Pick-Up on South Street or Out of the Past. Visually, Lane's drawing is in a realistic mode, reminiscent of Charles Burns, that heightens the tension in stories that veer between naturalism on the one hand and the comical, nightmarish, and hallucinatory on the other. Here, American culture is a thrift store and the characters are thrift store junkies living among the clutter. It's an America depicted as a subdued and haunted Coney Island, made up of lost characters—boozing, brawling, haplessly shooting themselves in the face, and hopping freight trains in search of Elvis. Abandoned Cars is an impressive debut of a major young American cartoonist.
About the Author
---
Tim Lane lives in St. Louis, MO, with his wife and daughter.
Praise For…
---
The real comic book event of the summer...
breathtaking... The book signals the arrival of
a major new voice on the American literary
landscape, with or without the illustrations.
— Print

The stories take place along a vaguely defined stretch of scenery haunted by the ghosts of Kerouac, Marlon Brando, and Elvis, where visitors can probably hear the distant strains of a Tom Waits song or The Magnetic Fields' Charm of the Highway Strip playing in the background... Here's one to watch.

— The Onion A.V. Club

[An] apt literary comparison might be to Raymond Carver... Abandoned Cars establishes Lane in the first rank of today's emerging comics artists.

— Step Inside Design

Lane's beautifully crafted pen-and-ink drawing combines a master artist's
eye for detail with a predilection for the
grotesque to produce a superb blending
of unforgettable images and poignant
meditation on life's tragic undercurrents.
— Booklist

When you put all the pieces together, you don't simply get a story or a group of stories, you get a book that pulls back the curtain on the collective unconscious of a nation. ... Like the myths that it is inspired by, Abandoned Cars lingers long after reading and grows in stature as you re-live and re-tell it.

— Chad Derdowski - Mania

It's the modern equivalent of the Raymond Chandler yarns that fill up the more exciting portion of your bookshelf — a string of police chases and back-alley fist fights with a surprisingly introspective thread running in the background.
— Kempt

The spirit of the Beats imbues the debut collection by Tim Lane… The stories are united by their sense of longing and melancholy. … His pen and ink style, reminiscent of Charles Burns, is extremely detailed and noirishly evocative.
— Mike Sebastian - Campus Circle