Esperanza: A Love and Rockets Book (The Complete Love and Rockets Library) (Paperback)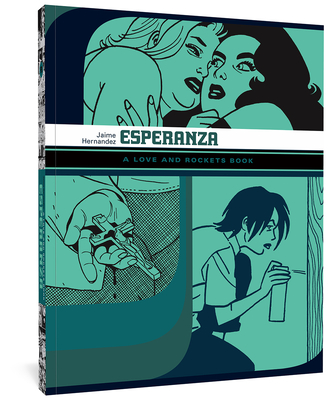 Other Books in Series
This is book number 9 in the The Complete Love and Rockets Library series.
Description
---
Maggie deals with the past and Hopey moves into the future in the ninth volume of The Complete Love and Rockets Library and the fifth collection of the Locas storyline.
In the fifth batch of "Locas" stories by Jaime Hernandez, which originally ran from 2001–2007 in the pages of the
Love and Rockets
comic series, an older and wiser Maggie faces down the "Ghost of Hoppers" in a full-length graphic novel (which also introduces one of Jaime's greatest recent characters, Vivian the "Frogmouth," who creates chaos wherever she goes). Meanwhile, in "The Education of Hopey Glass," Hopey (her Spanish birth name giving this collection its title) career transitions from tending bar to teaching kindergarten (while still juggling a complex love life). The final quarter of the book shows Maggie's lovable ex, Ray Dominguez, being dragged into the aftermath of a grisly murder thanks to his affair with the "Frogmouth." 
About the Author
---
Jaime Hernandez was one of six siblings born and raised in Oxnard, California. His mother passed down a love of comics, which for Jaime became a passion rivaled only by his interest in the burgeoning punk rock scene of 1970s Southern California. Together with his brothers Gilbert and Mario, Jaime co-created the ongoing comic book series Love and Rockets in 1981, which Gilbert and Jaime continue to both write and draw to this day. Jaime's work began as a perfect (if unlikely) synthesis of the anarchistic, do-it-yourself aesthetic of the punk scene and an elegant cartooning style that recalled masters such as Charles M. Schulz and Alex Toth. Love and Rockets has evolved into one of the great bodies of American literary fiction, spanning five decades and countless high-water marks in the medium's history. In 2016, Hernandez won the prestigious Los Angeles Times Book Prize for his graphic novel, The Love Bunglers. In 2017, he (along with Gilbert) was inducted into the Will Eisner Comic Book Hall of Fame, and, in 2018, he released his first children's book, the Aesop Book Prize-winning The Dragon Slayer: Folktales from Latin America. He is a lifelong Angeleno.
Praise For…
---
...[I]f there's one thingJ aime's Locas stories in general, and this volume in particular, tell us, it's that sometimes you have to be a grown­up for a long time before you grow up. It's worth the work, and the wait.
— Sean T. Collins - The Comics Journal

I don't really understand why the material of Love and Rockets isn't widely regarded as one of the finest pieces of fiction of the last 35 years. Because it is.
— Neil Gaiman