Parenting Beyond Pink & Blue: How to Raise Your Kids Free of Gender Stereotypes (Paperback)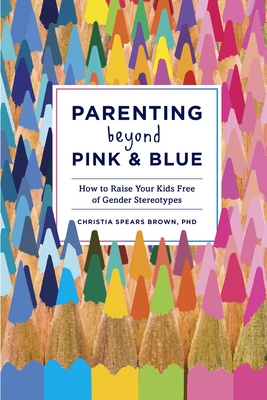 $14.99
Not Available In-Store - Usually Ships from Warehouse in 1-5 Days
Staff Reviews
---
"It isn't about denying that children are girls or boys. It's about children not being defined by gender." This summation comes in the penultimate paragraph and it's the reason I read this book. I'm not what anyone would consider militant, but gender stereotypes are definitely something I'd like to minimize and that's not easy. Try finding 'gender neutral' newborn clothing--you have about 15 options, all of which are green and yellow. Go to any toy store and just try to avoid the Pink Aisle. Beyond that, even when they don't mean to, people treat little girls and little boys differently, which leads to the old Men Are from Mars, Women Are from Venus mentality. Brown has written a handy guide for checking those impulses and an informative, scientific, argument against raising your kids in a pink and blue world. I would also recommend this book for anyone who works with kids, teachers, caregivers, pediatricians, anyone at all who regularly influences children.
—
HEATHER'S STAFF PICKS
Description
---
A guide that helps parents focus on their children's unique strengths and inclinations rather than on gendered stereotypes to more effectively bring out the best in their individual children, for parents of infants to middle schoolers. 

Reliance on Gendered Stereotypes Negatively Impacts Kids

Studies on gender and child development show that, on average, parents talk less to baby boys and are less likely to use numbers when speaking to little girls. Without meaning to, we constantly color-code children, segregating them by gender based on their presumed interests. Our social dependence on these norms has far-reaching effects, such as leading girls to dislike math or increasing aggression in boys.

In this practical guide, developmental psychologist (and mother of two) Christia Spears Brown uses science-based research to show how over-dependence on gender can limit kids, making it harder for them to develop into unique individuals. With a humorous, fresh, and accessible perspective, Parenting Beyond Pink & Blue addresses all the issues that contemporary parents should consider—from gender-segregated birthday parties and schools to sports, sexualization, and emotional intelligence. This guide empowers parents to help kids break out of pink and blue boxes to become their authentic selves.
About the Author
---
CHRISTIA SPEARS BROWN, PhD, is an associate professor of developmental psychology at the University of Kentucky. Her work on the impact of gender stereotypes on children and adolescents has been published widely in scientific journals and featured in numerous newspapers, magazines, local radio shows, NPR, and the CBS Evening News. She blogs regularly for Psychology Today in her column "Beyond Pink and Blue." She is also an expert panelist for the ACLU.
Praise For…
---
"Practical and research-based, Parenting Beyond Pink-and-Blue is a terrific guide for parents who want to do the best for both their sons and daughters."
–Lise Eliot, PhD, author of Pink Brain, Blue Brain
 
"Whether you are a parent who believes that boys and girls are 'just different' or a parent who believes that gender differences are all 'just culture,' you will find valuable science and advice in Parenting Beyond Pink & Blue."
–Lynn S. Liben, Distinguished Professor of Psychology at Pennsylvania State University
 
"Christia Spears Brown has hit a home run! Unlike many parenting books, this one is based on scientific evidence and conveyed in an engaging writing style. If you want your child to grow up to have opportunities unconstrained by old-fashioned gender stereotypes, this is the book for you."
–Prof. Janet Shibley Hyde, University of Wisconsin—Madison, and author of Half the Human Experience: the Psychology of Women
 
"Parents want to raise strong and competent daughters and sons, but how can they know what to do and not do when they are bombarded with messages about the 'natural' traits and abilities of boys and girls. Christia Spears Brown provides great guidelines for helping all children develop their unique talents by avoiding the traps set by our beliefs about gender differences. It is great read for concerned parents, grandparents, teachers, and others."
–Dr. Diane F. Halpern, Dean of Social Sciences at Minerva Schools and KGI and McElwee Family Professor of Psychology at Claremont McKenna College