Operation Bite Back: Rod Coronado's War to Save American Wilderness (Paperback)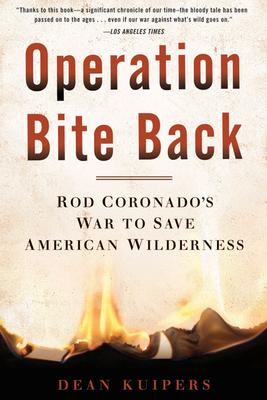 Staff Reviews
---
Dean Kuiper's first book, Burning Rainbow Farm, brilliantly examined and exposed our nation's ridiculous drug laws. Now he explores the radical environmental movement through the story of Rod Coronado, an activist who became notorious for taking on the fur industry. Rod's story is one of courage and idealism, but it is not black and white. Kuipers is able to convey the ambivalence and struggles of someone who sees the earth being rapidly destroyed around him, and wants to do something about it. But Rod's story reveals something deeply disturbing, as well: the U.S. government has changed the definition of "terrorist" to include people who destroy property in the name of a cause. What kind of nation are we living in when someone who burns an SUV or releases some minks is considered as threatening to our country as a suicide bomber? I take comfort in the fact that Dean Kuipers is out there writing, and continuing to expose issues like these.
—
Sarah B.
Description
---
Dean Kuipers presents a portrait of notorious activist Rod Coronado, whose story takes us behind the scenes of the Animal Liberation Front and the Earth Liberation Front, environmental groups that are among the FBI's biggest domestic terrorism priorities, even in the wake of 9/11. Coronado embarked on a renegade arson campaign risking everything for his cause and found himself caught up in terrorism prosecutions now sweeping the movement.
About the Author
---
Dean Kuipers is the managing editor of the Los Angles Times entertainment site. He was deputy editor of Los Angeles City Beat and the author of Burning Rainbow Farm, I Am a Bullet, and Ray Gun Out of Control. He lives in Los Angeles.