Can't We Talk about Something More Pleasant?: A Memoir (Hardcover)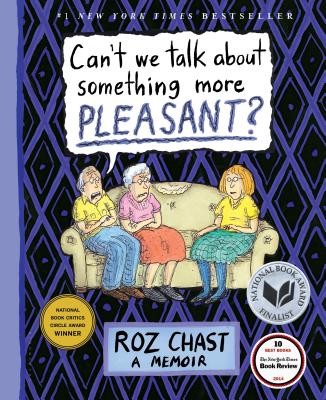 $28.00

Not Available In-Store - Usually Ships from Warehouse in 1-5 Days
Staff Reviews
---
This is not normally a book I would find myself picking up, but after hearing all the buzz surrounding it, I decided to give Can't We Talk About Something More Pleasant a chance. I am so glad that I did. This book takes a topic that as the title describes, might not be so pleasant and gives readers an insightful, humorous look into the issues that one may face when having to take care of their aging parents. The story is told through Roz Chast's simple, but effective, illustrations, making this memoir one that is not to be missed!
— PICKS BY HEATHER H.
At last! A graphic novel for Baby Boomers!! Roz Chast, renowned New Yorker cartoonist, takes a hilarious crack at a very sobering subject: her aging and very-much-in-denial parents, and how she navigates, with varying degrees of success, the tricky task of keeping them safe while keeping herself sane. Her relationship with her mother is complicated, with her father things were easier. But both of them have always lived in Brooklyn, "not the Brooklyn of artists..." but "DEEP Brooklyn... people who have been left behind by everyone and everything." Chast's more sophisticated cultural milieu is a source of mystery and dismay to her parents. Seeing their history through Chast's eyes makes this very understandable. Chast is brutally honest, laugh-out-loud funny, and deeply human in this memoir.
—
Georgeann
Description
---
#1 New York Times Bestseller

2014 NATIONAL BOOK AWARD FINALIST

In her first memoir, New Yorker cartoonist Roz Chast brings her signature wit to the topic of aging parents. Spanning the last several years of their lives and told through four-color cartoons, family photos, and documents, and a narrative as rife with laughs as it is with tears, Chast's memoir is both comfort and comic relief for anyone experiencing the life-altering loss of elderly parents.

When it came to her elderly mother and father, Roz held to the practices of denial, avoidance, and distraction. But when Elizabeth Chast climbed a ladder to locate an old souvenir from the "crazy closet"—with predictable results—the tools that had served Roz well through her parents' seventies, eighties, and into their early nineties could no longer be deployed.

While the particulars are Chast-ian in their idiosyncrasies—an anxious father who had relied heavily on his wife for stability as he slipped into dementia and a former assistant principal mother whose overbearing personality had sidelined Roz for decades—the themes are universal: adult children accepting a parental role; aging and unstable parents leaving a family home for an institution; dealing with uncomfortable physical intimacies; managing logistics; and hiring strangers to provide the most personal care.

An amazing portrait of two lives at their end and an only child coping as best she can, Can't We Talk about Something More Pleasant will show the full range of Roz Chast's talent as cartoonist and storyteller.
About the Author
---
Roz Chast grew up in Brooklyn. Her cartoons began appearing in the New Yorker in 1978. Since then, she has published more than one thousand cartoons in the magazine. She has written and illustrated many books, including What I Hate: From A to Z, and the collections of her own cartoons The Party After You Left and Theories of Everything. She is the editor of The Best American Comics 2016 and the illustrator of Calvin Trillin's No Fair! No Fair! and Daniel Menaker's The African Svelte, all published in Fall 2016.
Praise For…
---
"By turns grim and absurd, deeply poignant and laugh-out-loud funny. Ms. Chast reminds us how deftly the graphic novel can capture ordinary crises in ordinary American lives." - Michiko Kakutani, New York Times

"A tour de force of dark humor and illuminating pathos about her parents' final years as only this quirky genius of pen and ink could construe them." - Elle

"An achievement of dark humor that rings utterly true." - Washington Post

"One of the major books of 2014 . . . Moving and bracingly candid . . . This is, in its original and unexpected way, one of the great autobiographical memoirs of our time." - Buffalo News

"Better than any book I know, this extraordinarily honest, searing and hilarious graphic memoir captures (and helps relieve) the unbelievable stress that results when the tables turn and grown children are left taking care of their parents. . . [A] remarkable, poignant memoir." - San Francisco Chronicle

"Very, very, very funny, in a way that a straight-out memoir about the death of one's elderly parents probably would not be . . . Ambitious, raw and personal as anything she has produced." - New York Times

"Devastatingly good . . . Anyone who has had Chast's experience will devour this book and cling to it for truth, humor, understanding, and the futile wish that it could all be different." - St. Louis Post Dispatch

"Gut-wrenching and laugh-aloud funny. I want to recommend it to everyone I know who has elderly parents, or might have them someday." - Milwaukee Journal Sentinel

"Joins Muriel Spark's Memento Mori, William Trevor's The Old Boys, and Kingsley Amis's Ending Up in the competition for the funniest book about old age I've ever read. It is also heartbreaking." - Barnes & Noble Review

"Chast tackles those intimate and difficult changes with just the same humor and honesty as everything else. Readers who are starting to transition from children to caretakers of their own parents will find comfort in Chast's work, and almost anyone can appreciate the pleas to talk about something more pleasant with your family." - Paste, 10 Comics to Help You Escape (or Appreciate) Your Family this Holiday Season

"Revelatory… So many have faced (or will face) the situation that the author details, but no one could render it like she does. A top-notch graphic memoir that adds a whole new dimension to readers' appreciation of Chast and her work." - Kirkus Reviews (starred review)

"The book is a literary masterpiece. It's so profound and emotional about death and family, it's just mind-blowing." - Amanda Peet, Vogue's "Required Reading"

"Chast is at the top of her candid form, delivering often funny, trenchant, and frequently painful revelations -- about human behavior, about herself -- on every page." - David Small, author of Stitches

"Never has the abyss of dread and grief been plumbed to such incandescently hilarious effect. The lines between laughter and hysteria, despair and rage, love and guilt, are quavery indeed, and no one draws them more honestly, more . . . unscrimpingly, than Roz Chast." - Alison Bechdel, author of Fun Home

"Roz Chast squeezes more existential pain out of baffled people in cheap clothing sitting around on living-room sofas with antimacassar doilies in crummy apartments than Dostoevsky got out of all of Russia's dark despair. This is a great book in the annals of human suffering, cleverly disguised as fun." - Bruce McCall, author of Bruce McCall's Zany Afternoons
Coverage from NPR