Palante: Young Lords Party (Paperback)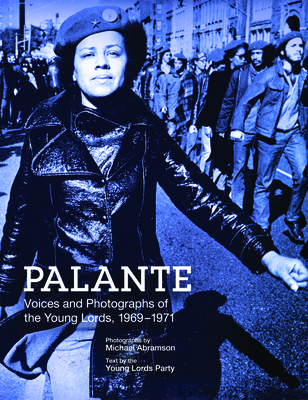 $24.95

Not Available In-Store - Usually Ships from Warehouse in 1-5 Days
Description
---
In 1969, a group of young Puerto Rican activists founded the Young Lords Party in New York City, taking inspiration from the Black Panthers. Palante, the first book by and about the radical organization, is brought back into print here with new introductory material. Capturing the spirit and actions of the sixties movements, Palante features political essays by members, oral histories of their lives leading into the party, and more than seventy-five photos of their vibrant membership and actions.
Michael Abramson is a photographer and publisher who lives in Brooklyn, New York.
Iris Morales is the producer of the documentary Palente, Siempre Palente The Young Lords, which aired on PBS, and is the executive director of the Union Square Awards.
About the Author
---
In 1969, a group of young, primarily Puerto Rican activists founded the Young Lords Party in New York City, taking inspiration from the Black Panther Party. Organizing directly in Latino/a communities the Young Lords took up slum housing conditions, garbage clean ups, serve the people programs, and health care. Dramatic takeovers of institutions--such as The People's Church, where they ran a free breakfast program, and Lincoln hospital, where they held free testing for tuberculosis and lead poisoning--brought media and public attention to the socio-economic and political situation of people of color in the United States. They summarized their political beliefs and goals in a 13-point program, published and distributed a newspaper called PALANTE and produced a weekly radio show on WBAI also called PALANTE. Iris Morales is an activist, educator, media Producer and author who has spent her life in the struggle for human rights and Puerto Rican liberation. A member of the Young Lords for five years, she rose through the ranks to become Deputy Minister of Education and leader of the Women's Union. !Palante, Siempre Palante!, her award-winning documentary about the Young Lords was broadcast on national public television and continues to be screened widely in colleges and community venues across the United States. Ms. Morales lives in New York City.