Adventure Time: Candy Capers (Paperback)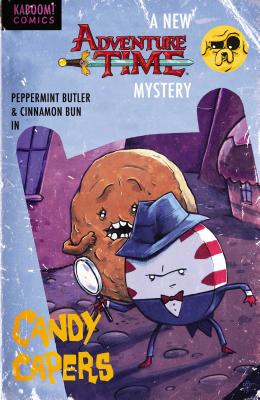 Description
---
An all-new stand-alone ADVENTURE TIME story featuring Peppermint Butler and Cinnamon Bun!

FINN AND JAKE ARE MISSING?! Don't worry Candy Kingdom, Peppermint Butler and Cinnamon Bun will…protect…you? This is a mini-series you definitely don't want to miss, with talent of Yuko Ota and Ananth Panagariya of JOHNNY WANDER writing our candied heroes and Ian McGinty of UGLY DOLL on art, there is nothing that can go wrong!
About the Author
---
Ananth Panagariya and Yuko Ota are a writer and artist team best known for their bi-weekly webcomic, JOHNNY WANDER. The webcomic focuses on semi-autobiographical slice-of-life stories with occasional divergence into fantasy. Ananth Panagariya is a writer, designer and reader who has produced work for Oni Press, First Second and Dark Horse Inc., including comics, t-shirt & ad design and production work. He writes constantly, and is usually putting pencil to paper, analog or otherwise. Yuko Ota is a cartoonist and illustrator who has worked with publishers like Oni Press, Dark Horse Inc., Lerner Publishing and Red5. She draws on the subway, in coffee shops, on the living room couch and in her cozy home office somewhere in Brooklyn, NY.