Regular Show Original Graphic Novel Vol. 4: Wrasslesplosion: Wrasslesplosion (Paperback)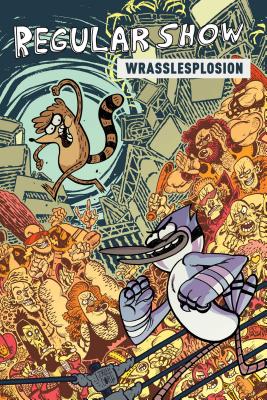 Description
---
When slacker park employees Mordecai and Rigby settle an argument with a backyard wrestling match, they suddenly find themselves transported to an all-wrestling dimension, where they're forced to compete for the greatest championship in the land... or risk losing their souls!

When Mordecai and Rigby accidentally miss the biggest pro wrestling show of the year, their argument about who should have won turns into a backyard wrestling brawl . . . and sends them on a one-way journey to Pound Town, an all-wrestling dimension! Can the dudes work together to win tag-team championship gold and their freedom? Or will they be trapped forever in an endless tournament?

Writer Ryan Ferrier (Kennel Block Blues, Secret Wars: Battleworld) teams up with artist Laura Howell (Regular Show, Angry Birds) for an epic wrasslin' adventure. Also features a short story by Eddie Wright (Regular Show, Lake Imago) that introduces Mordecai to his washed-up wrestling hero!