Elena Ferrante's Key Words (Paperback)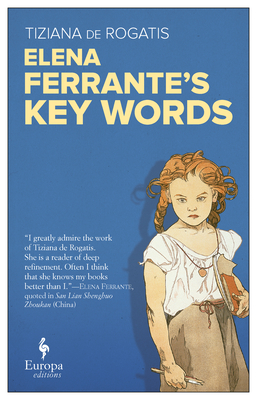 Description
---
"I greatly admire the work of Tiziana de Rogatis. She is a reader of deep refinement. Often I think that she knows my books better than I. So, I read her with admiration and remain silent."--ELENA FERRANTE, in the magazine, San Lian Sheng Huo Zhou Kan
Ferrante's four-volume novel cycle known in English as the Neapolitan quartet has become a global success, with over ten million readers in close to fifty countries. Her readers recount feeling "addicted" to the novels; they describe a pleasure in reading that is as rare as it is irresistible, a compulsion that leads them either to devour the books or to ration them so as to prolong the pleasure.
De Rogatis here addresses that same transnational, diverse, transversal audience. Elena Ferrante's Key Words is conceived as a lighted path made of luminous key words that synthesize the multiform aspects of Ferrante's writing and guide us through the labyrinth of her global success.
About the Author
---
Tiziana de Rogatis (Naples) is an associate professor of Comparative Literature at the University for Foreigners of Siena. Her scholarship has focused on Montale, European culture between the 1930s and 1940s, and modern feminine constructions. She has written and lectured widely on Elena Ferrante in Italy, England, Holland, and China.