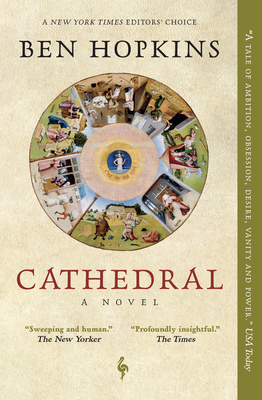 Description
---
A NEW YORK TIMES EDITORS CHOICE
"An expansive fictional epic addressing themes of art, religion and power in the mode of Ken Follett or Umberto Eco... Hopkins's compelling and descriptive tale will leave readers eager for more."--Shelf Awareness (Starred Review)
The Cathedral. A grandiose edifice seemingly with a life of its own in the center of the medieval Rhineland town of Hagenburg. It will decide the fortunes of men and women, and fill wide-eyed children with dreams that are as extravagant as its own awe-inspiring form. Over almost two centuries, the Cathedral's design and construction unites a vast array of unforgettable characters whose destinies are inseparable from the shifting political factions and economic interests vying for supremacy. Immersive, atmospheric, entertaining, Cathedral tells a sweeping story about obsession, mysticism, art, and earthly desire, combining historical fiction with a gripping tale of adventure and intrigue.
"Hopkins weaves together a multitude of voices to examine the relationship between medieval worship and the era's politics and economics. The resulting epic is both sweeping and human."--The New Yorker
"A clever (even postmodern?) commentary on the ironies of history."--Alida Becker, The New York Times Book Review



About the Author
---
Ben Hopkins is a screenwriter, film-maker and novelist. He has lived in London and Istanbul and now lives in Berlin. His films include features and shorts, fiction and documentary, and have won awards at festivals such as Berlin, Locarno, Antalya and Toronto Hot Docs.