Return to You: A Postpartum Plan for New Moms (Paperback)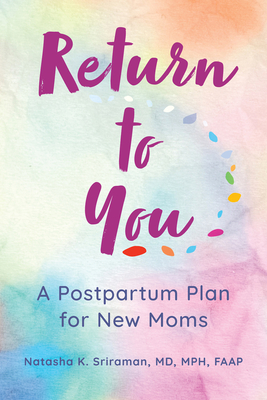 $16.95

Not Available In-Store - Usually Ships from Warehouse in 1-5 Days
Description
---
If you' re struggling with new motherhood, you' re not alone.

From pelvic floor issues to postpartum depression and anxiety, you may face a multitude of physical and mental challenges during the fourth trimester— the 3 months immediately after you give birth. While you' re caring for your new baby, who' s caring for you?

Return to You offers guidance on topics like sleep, breastfeeding, and nutrition to help you restore yourself physically. And, even more importantly, postpartum expert Dr. Sriraman offers support to help
shoulder the emotional burden of modern motherhood by showing you how to ask for help and give yourself the time you need to rest, recover, and heal.

About the Author
---
Natasha K. Sriraman, MD, MPH, FAAP, FABM, is a board-certified academic pediatrician, an associate professor of pediatrics at Eastern Virginia Medical School/Children' s Hospital of the King' s Daughters, and a mother of 3. She is an internationally recognized expert on breastfeeding and postpartum depression who has served on the executive committee of the American Academy of Pediatrics (AAP) Section on Breastfeeding and the executive board of the Virginia Chapter of the AAP and is honorary chairperson of Postpartum Support Virginia. She lives with her husband and children in Virginia Beach, VA.
Praise For…
---
"An empowering look at the early postpartum period . . . expectant parents worried about the postpartum period will find this a solid resource." —Publishers Weekly

"Packed with essential information and should be handed to every single new mother and father." Karen Kleiman, founding director, The Postpartum Stress Center, and author of Good Moms Have Scary Thoughts and numerous books on postpartum depression and anxiety

"Compassionate, validating, honest, and evidence-based." —Shoshana S. Bennett, PhD, clinical psychologist and author of Postpartum Depression for Dummies

"This book is something I wish I had read before I delivered. Dr. Sriraman's approach to honest, science-based information is expertly combined with real-life experience and knowledge." —Kristen Crowley, CPT, working mom of two, television host, and entrepreneur

"An intentionally culturally sensitive guide for parents from a source everyone can trust: a pediatrician and a mom who's seen it all personally and professionally. Return to You takes preparing for early parenthood to a new level." —Whitney Casares, MD, MPH, FAAP, author of The Working Mom Blueprint

"Moms should pack this as an essential in their hospital bag!" —Sharon Cindrich, MPAL, author of the column Plugged In Parent and E-Parenting: Keeping Up With Your Tech-Savvy Kids

"Dr Sriraman's new book Return to You is filled with extremely practical advice for new mothers. She gives excellent clinical guidance, peppered with personal anecdotes that make the book fun to read." —Susan Landers, MD, FAAP, FABM, author of So Many Babies: My Life Balancing a Busy Medical Career and Motherhood

"This book is like a coffee cup conversation of exploration and truth telling between mothers, only Dr Sriraman is both a mother and a medical expert in infant care and breastfeeding, talking with you as your BFF." —Robert M. Lawrence, MD, FABM, coeditor and coauthor of Breastfeeding: A Guide for the Medical Profession and adjunct clinical professor of pediatrics, University of Florida College of Medicine

"When I read this book I hear Dr Sriraman's calm, practical, and reassuring voice. . . . I am so thankful that more parents will benefit from her advice, explanations, and perspective." —Christine Truman, MD, reproductive psychiatrist at Partners in Women's Mental Health and assistant professor, community faculty track, Department of Psychiatry and Behavioral Sciences, Eastern Virginia Medical School