The New Nobility: The Restoration of Russia's Security State and the Enduring Legacy of the KGB (Paperback)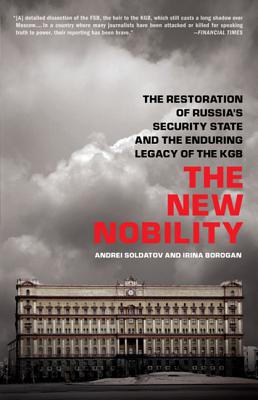 $16.99

Not Available In-Store - Usually Ships from Warehouse in 1-5 Days
Description
---
In The New Nobility, two courageous Russian investigative journalists open up the closed and murky world of the Russian Federal Security Service.

While Vladimir Putin has been president and prime minister of Russia, the Kremlin has deployed the security services to intimidate the political opposition, reassert the power of the state, and carry out assassinations overseas. At the same time, its agents and spies were put beyond public accountability and blessed with the prestige, benefits, and legitimacy lost since the Soviet collapse.

The security services have played a central -- and often mysterious -- role at key turning points in Russia during these tumultuous years: from the Moscow apartment house bombings and theater siege, to the war in Chechnya and the Beslan massacre. The security services are not all-powerful; they have made clumsy and sometimes catastrophic blunders. But what is clear is that after the chaotic 1990s, when they were sidelined, they have made a remarkable return to power, abetted by their most famous alumnus, Putin.
About the Author
---
Andrei Soldatov and Irina Borogan are cofounders of Agentura.Ru and authors of The Red Web and The New Nobility. Their work has been featured in the New York Times, Moscow Times, Washington Post, Online Journalism Review, Le Monde, Christian Science Monitor, CNN, and BBC. The New York Times has called Agentura.ru "a web site that came in from the cold to unveil Russian secrets." Soldatov and Borogan live in Moscow, Russia.
Praise For…
---
Russian Life
"For those looking for yet more evidence that the security services are pulling the strings in modern Russia, look no further than this extraordinary new book from the fearless journalists at agentura.ru. Soldatov (who has written for
Russian Life
) and Borogan have compiled a history of FSB activities and operations over the past decade that paint a very vivid picture of a security service that has become Russia's new ruling class… With amazing accounts of some of the most significant security crises and counter-terrorist activities of the past decade, Soldatov and Borogan offer insights into FSB operations that have not been offered anywhere to date… A must read." 
Irish Times, October 30, 2010
"Impressively detailed and unsettling… Soldatov and Borogan have done an excellent job in shining a light in some of Russia's darkest corners." 
Moscow Times, November 12, 2010
"Fortunately there are inquisitive and intrepid journalists like Andrei Soldatov and Irina Borogan to bring nuance, analysis and old-fashioned shoe-leather reporting to the subject of the revival of Russia's security services…. The authors pull no punches in their criticism of endemic corruption and incompetence in the country's security forces. But they do so with a refreshing lack of hysteria, drawing conclusions from facts they were able to document and refusing to indulge in conspiracy theory."
Literary Review, December 2010
"This important monograph, written by a brave and talented team, is a history of the KGB (now called the FSB) over the last fifteen years."
New Statesman, December 6, 2010
"Drawing on extensive investigations, the two journalists have written a gripping account of how veterans of the KGB seized control of the Russian state… This book paints a chilling picture of a country dominated by a power-hungry clique. Anyone who wants to understand Putin's brave new Russia should read it."
Financial World (UK), December 2010
"A thorough and very brave examination of an organization that has a tight political, commercial and economic grip on Russia" 
The Guardian, October 3, 2010
"If all of this still feels too frivolous, turn to The New Nobility, an inside look at the KGB by a pair of fearless Russian journalists, Andrei Soldatov and Irina Borogan. Charting the organisation's heyday, decline and creeping return to power, it promises to raise the hairs on your neck as effectively as Ackroyd's ghost stories."
Financial Times, October 18, 2010
"A detailed dissection of the FSB, the heir to the KGB, which still casts a long shadow over Moscow. For more than a decade the two authors have run the website Agentura.ru, a gold mine of information on the inner workings of the security services, particularly the FSB. In a country where many journalists have been attacked or killed for speaking truth to power, their reporting has been brave."
Mother Jones, November 2010
"The New Nobility is an unnerving look at the real power behind the new Russia."