The Weirdness (Paperback)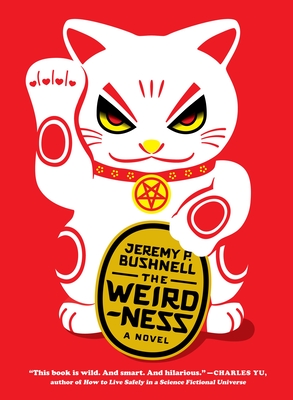 Staff Reviews
---
In order to get his novel published, all Billy Ridgeway has to do is save the world by stealing a magical cat figurine from the most powerful warlock on the Eastern Seaboard and hand it over to Lucifer for safekeeping. With a premise like that, do I really even need to say anything else? The Weirdness pretty much sells itself. Bushnell's zany tale is quirky, unpredictable, hysterical, ridiculous, and downright fun. I read it with manic glee, delighted by its every twist and turn. I couldn't wipe the grin off my face.
—
JASON'S STAFF PICKS
Description
---
"This book is wild. And smart. And hilarious. And weird ... in all kinds of good ways. Prepare to be weirded out. And to enjoy it."
--Charles Yu, author of "How to Live Safely in a Science Fictional Universe""
"
What do you do when you wake up hung over and late for work only to find a stranger on your couch? And what if that stranger turns out to be an Adversarial Manifestation--like Satan, say--who has brewed you a fresh cup of fair-trade coffee? And what if he offers you your life's goal of making the bestseller list if only you find his missing Lucky Cat and, you know, sign over your soul?
If you're Billy Ridgeway, you take the coffee.
About the Author
---
JEREMY BUSHNELL is the fiction editor for Longform.org, and is also the lead developer of "Inevitable," a tabletop game released by Dystopian Holdings. He teaches writing at Northeastern University in Boston, and he lives in Dedham, Massachusetts. This is his first novel.
Praise For…
---
"Wonderfully weird and entertaining." —Esquire

"An utterly charming, silly, and heartily entertaining coming-of-age story about a man-boy who learns to believe in himself by reckoning with evil… a welcome antidote to heavy-handed millennial fiction. Instead of trying to find profundity in party conversation or making his readers shudder in melancholy recognition of their thwarted lives, The Weirdness finds virtue in absurdity. Thank goodness — or darkness — for that." —Boston Globe

"A comedic literary thriller situated between the world of Harry Potter and the Brooklyn of Jonathan Ames, Bushnell's debut effectively mines well-trodden terrain to unearth some dark gems." —Publishers Weekly

"This book is wild. And smart. And hilarious. And weird … in all kinds of good ways. Prepare to be weirded out. And to enjoy it."
—Charles Yu, author of How to Live Safely in a Science Fictional Universe

"Jeremy Bushnell has written an irreverent, chaotic, comically inventive novel that makes New York City look like the insane asylum some suspect it is. It steadfastly refuses to bore you, and by the end has something important to say about the way we dream." 
—William Giraldi, author of Busy Monsters

"A whimsical approach... an aspiring author in New York who wakes one day to find that Satan has just brewed him a cup of fair-trade coffee — and has a little deal to discuss."
—Tampa Bay Times

"The Weirdness manages to soar beyond the potentially familiar tropes of urban fantasy with a strong sense of style and character… Bushnell's debut novel is a clever, darkly satiric tale of the devil, literary Brooklyn and the human penchant for underachievement." —Shelf Awareness

"[The Weirdness] is immensely entertaining, and more than being merely diverting, is truly funny." —Harvard Crimson