Cat Out of Hell (Hardcover)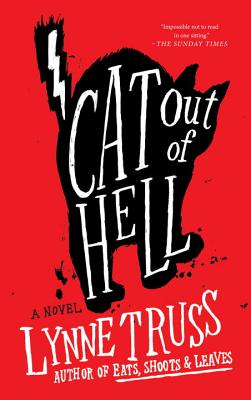 Staff Reviews
---
I loved everything about this book, from the evil cat the Captain to the somewhat murkier morals of the cat Roger. The book's unlikely librarian-hero shows just the right amount of courage and disbelief when faced with talking evil cats with powers, and I giggled uncontrollably all the way through the novel. Cat lovers and haters alike can unite behind this well-written tale. Of course, you may never look at a cat's behavior quite the same way again...
—
Em
Description
---
Acclaimed New York Times bestselling author Lynne Truss (Eats, Shoots & Leaves) is back with a mesmerizing and hilarious tale of cats and murder

For people who both love and hate cats comes the tale of Alec Charlesworth, a librarian who finds himself suddenly alone: he's lost his job, his beloved wife has just died. Overcome by grief, he searches for clues about her disappearance in a file of interviews between a man called "Wiggy" and a cat, Roger. Who speaks to him.
It takes a while for Alec to realize he's not gone mad from grief, that the cat is actually speaking to Wiggy . . . and that much of what we fear about cats is true. They do think they're smarter than humans, for one thing. And, well, it seems they are What's more, they do have nine lives. Or at least this one does - Roger's older than Methuselah, and his unblinking stare comes from the fact that he's seen it all. And he's got a tale to tell, a tale of shocking local history and dark forces that may link not only the death of Alec's wife, but also several other local deaths. But will the cat help Alec, or is he one of the dark forces? In the deft and comedic hands of mega-bestseller Lynne Truss, the story is as entertaining as it is addictive" (The Sunday Telegraph) - an increasingly suspenseful and often hysterically funny adventure that will please cat lovers and haters alike. And afterwards, as one critic noted, "You may never look at a cat in quite the same way again" (The Daily Mail).
About the Author
---
LYNNE TRUSS is the author of Eats, Shoots & Leaves: The Zero Tolerance Approach to Punctuation, which spent 45 weeks on the New York Times hardcover bestseller list--3 at #1--and was the USA Today Book of the Year 2004, and Talk to the Hand: The Utter Bloody Rudeness of the World Today, or, Six Good Reasons to Stay at Home and Bolt the Door, which was also a New York Times bestseller. Her children's book Eats, Shoots & Leaves: Why, Commas Really Do Make a Difference spent 7 weeks on the New York Times children's bestseller list--4 at #1--and was a Book Sense Book of the Year Honor Book, as well as a KidsReads.com Best Book of the Year.