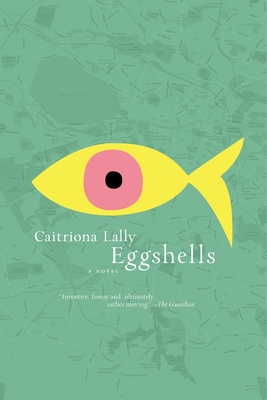 $16.99

Not Available In-Store - Usually Ships from Warehouse in 1-5 Days
Staff Reviews
---
Every once in a while I meet a character who I just want to hold on to and never part ways with. Vivian Lawlor is such a character, and I am deeply grateful to debut novelist Caitriona Lally for introducing me to her. Vivian leaps off the page like a child playing ballerina, her voice quirky and whimsical. It was a bittersweet delight to look at the world through her eyes, seeing everything sideways and upside down, finding personality and charm in every detail. Fanciful, endearing, and, okay, maybe a little bit crazy, Vivian lets us follow along behind her as she daydreams her way around Dublin, looking for magic and perhaps a place to belong. From the first sentence, I was captivated by the oddball logic of her wandering words. I don't think I ever got through more than a page without having to stop for a moment just to smile. With lyrical prose, clever wordplay, and surprising emotional depth, Eggshells is a touching novel and an absolute joy to read.
—
Jason
March 2017 Indie Next List
---
"This quirky little novel is such a delight! Reading Irish authors is typically a bit of a struggle for me - their style is almost too unusual at times. With Eggshells, I felt like I was reading an incredibly charming yet melancholy story while also poking around in the deep recesses of the mind of an exceptionally vivid personality. You will laugh, you will raise your eyebrows, and your heart will break as you follow Vivian around on her daily wanderings as she tries desperately to find the 'other world' where she belongs. Lally has made it so easy to walk around in someone else's very unique shoes - a subtle lesson in empathy that can always be re-learned."
— Hannah Hyde (W), Little Shop of Stories, Decatur, GA
Description
---
—Irish Book of the Year Finalist!
—An Amazon Best Books of the Year So Far pick!
 
"Wildly funny." —THE NEW YORK TIMES BOOK REVIEW
 
"Inventive, funny and, ultimately, moving." —Claire Kilroy, THE GUARDIAN
 
Vivian doesn't feel like she fits in—and never has. As a child, she was so whimsical that her parents told her she was "left by fairies." Now, living alone in Dublin, she finds herself without a friend in the world.
 
So, she decides it's time to change her life: She begins by advertising for a friend. Not just any friend. She wants one named Penelope.
 
Meanwhile, Vivian roams the city, mapping out a new neighborhood every day, seeking her escape route to a better world, the other world her parents told her she came from.
 
And then one day someone named Penelope answers her ad for a friend. And from that moment on, Vivian's life begins to change.
 
Debut author Caitriona Lally offers readers an exhilaratingly fresh take on the Irish love for lyricism, humor, and inventive wordplay in a book that is, in itself, deeply charming, and deeply moving.
About the Author
---
Caitriona Lally studied English Literature in Trinity College Dublin. She has had a colorful employment history, working as an abstract writer and a copywriter alongside working as a home helper in New York and an English teacher in Japan. She has traveled extensively around Europe, Asia, the Middle East, and South America. Caitriona was shortlisted for 'Newcomer of the Year' in the Irish Book Awards in 2015.
Praise For…
---
"This urban fairy tale delivers something that is both subtle and profound in its examination of the human soul. Magically delicious." —KIRKUS REVIEWS
 
"A whimsical jaunt through Dublin and a modern take on many old Irish folktales . . . Humorous, charming, and original." —BOOKLIST
 
"Full of action and humour as its beguiling narrator takes her surreal jaunts around the capital in search of a portal to another world . . . The black comedy gives the book a jaunty quality that complements the dazzling trip around Dublin." —Sarah Gilmartin, THE IRISH TIMES
 
"Delightfully quirky . . . Vivian's voice alone is enough to keep us reading, charmed by her unique brand of manic, word-hoarding wit." —THE IRISH INDEPENDENT

"The book's style calls to mind The Curious Incident of the Dog in the Night-Time by Mark Haddon. Engaging and humorous." —THE DUBLIN INQUIRER