Why I Am Not A Feminist: A Feminist Manifesto (Paperback)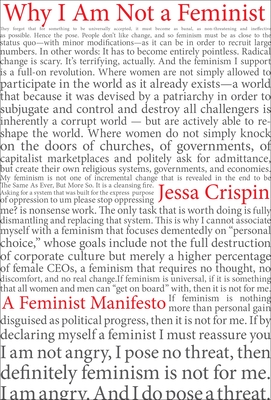 $17.99
Email or call for price.
Staff Reviews
---
I have always worn the label of "feminist" proudly. But, like most labels, it isn't a perfect fit. There are issues I've noticed, things that rankle, things I keep to myself, since my goal isn't to get steamrolled in Jezebel comment thread. For this reason, WHY I AM NOT A FEMINIST is incredibly refreshing. In her short, powerful book, Crispin excoriates the current feminist movement for the very issues that have bothered me, namely the way it has subjugated itself, becoming as banal and harmless as "a kitten with a drop of milk on its nose". She asserts that in trying to make feminism palatable and acceptable to the world, we have rendered it ineffective and useless, more of a buzzword than a force for change. Her words are simple, but radical: she argues for a society where anyone can thrive, regardless of race, gender or socioeconomic status. Rather than trying to work within the current framework, which is skewed towards the white, cis, male, and wealthy, we should tear it down, build something new that doesn't place wealth and power at a premium. Even if you don't agree with everything she says, even if you think this is an impossible utopian dream, even if you're a if-you-just-understood-how-capitalism-works-you'd-understand-why-it's-necessary kind of person, WHY I AM NOT A FEMINIST is worth a read. At the very least, it's a cleansing fire.
—
Lauren
Description
---
Outspoken critic Jessa Crispin delivers a searing rejection of contemporary feminism . . . and a bracing manifesto for revolution.

Are you a feminist? Do you believe women are human beings and that they deserve to be treated as such? That women deserve all the same rights and liberties bestowed upon men? If so, then you are a feminist . . . or so the feminists keep insisting. But somewhere along the way, the movement for female liberation sacrificed meaning for acceptance, and left us with a banal, polite, ineffectual pose that barely challenges the status quo. In this bracing, fiercely intelligent manifesto, Jessa Crispin demands more.

Why I Am Not A Feminist is a radical, fearless call for revolution. It accuses the feminist movement of obliviousness, irrelevance, and cowardice—and demands nothing less than the total dismantling of a system of oppression.



Praise for Jessa Crispin, and The Dead Ladies Project

"I'd follow Jessa Crispin to the ends of the earth." --Kathryn Davis, author of Duplex

"Read with caution . . . Crispin is funny, sexy, self-lacerating, and politically attuned, with unique slants on literary criticism, travel writing, and female journeys. No one crosses genres, borders, and proprieties with more panache." --Laura Kipnis, author of Men: Notes from an Ongoing Investigation

"Very, very funny. . . . The whole book is packed with delightfully offbeat prose . . . as raw as it is sophisticated, as quirky as it is intense." --The Chicago Tribune
About the Author
---
Jessa Crispin is the editor and founder of the on-line magazines Bookslut -- one of America's very first book blogs -- and  the on-line literary journal Spolia. She is the author of The Dead Ladies Project and The Creative Tarot, and has written for the New York Times, Guardian, Washington Post, Los Angeles Review of Books, NPR.org, Chicago Sun-Times, and Architect Magazine, among other publications. She has lived in  Lincoln, Kansas; Austin, Texas; Dublin, Ireland; Chicago, Illinois; Berlin, German, and elsewhere, and currently resides in New York City.
Praise For…
---
"The point of 'Why I Am Not a Feminist' isn't really that Crispin is not a feminist; it's that she has no interest in being a part of a club that has opened its doors and lost sight of its politics—a club that would, if she weren't so busy disavowing it, invite Kellyanne Conway in....Crispin's argument is bracing, and a rare counterbalance; where feminism is concerned, broad acceptability is almost always framed as an unquestioned good." —The New Yorker

"Small but mighty, a bracing, contradictory volume full of fury. It's a rousing call for unity that's not afraid to alienate, at once breezy and foreboding. It's a radical text written in accessible, entertaining prose, slipped nonchalantly into the mainstream….A blueprint for women who care about equal rights for all women, and really, all humans." —Flavorwire

"Perceptive and impassioned…There's something decidedly appealing, even romantic, about this vision of a radical movement that will, in Crispin's words, set about 'fully dismantling' the system." —New Republic

"Argues against the current brand of feminism that equates progress with buying into the status quo, and calls for a reinvestment in radical, even revolutionary thinking about what feminism can mean, and do." —Elle

"A searing critique…a necessary contribution to the effort to push contemporary social justice movements further to the left and to weave an understanding of class politics into modern identity-based movements in order to build a radical politics of solidarity." —Jacobin

"Brief, bellicose, and bracing…A call for an examination of conscience." —Chicago Tribune

"The author's ferocious critique effectively reframes the terms of any serious discussion of feminism. You'll never trust a you-go-girl just-lean-in bromide again. Forget busting glass ceilings. Crispin has taken a wrecking ball to the whole structure." —Kirkus starred review

"Feminists have, in fact, become polite insiders, and Crispin is here to show them how to punch their way out. A rallying manifesto; start swinging." —Library Journal

"Laser-like insight into feminism's strengths and weaknesses...Rhetoric that soars and sears...Through insights that provoke discussion and dissension, Crispin rallies the kind of radical verve that once vitalized a revolution in the hope that it will do so once again." —Booklist

"Jessa Crispin offers a biting critique of modern feminism... This is a good read for any feminist looking for an opportunity for self-reflection, or any person who questions the consumerist bent that modern feminism has taken."—Eugene Weekly