The Jesus Creed: Loving God, Loving Others - 15th Anniversary Edition (Paperback)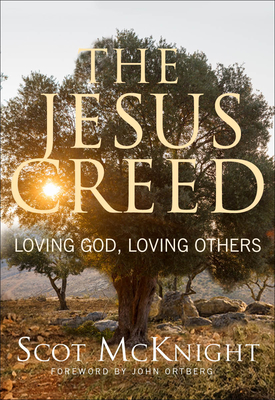 $17.99

Not Available In-Store - Usually Ships from Warehouse in 1-5 Days
Description
---
"Make sure this new guide for living is on your shelf." —Max Lucado 
This 15th anniversary of the bestselling classic The Jesus Creed invites us to rediscover the core of biblical Christianity: Loving God and Loving Others.  
Memorizing the Great Commandment is one thing, but living by it is quite another. One of today's most engaging and sought-after Biblical scholars, Scot McKnight demystifies this ancient creed and reveals its power to transform the lives of believers today. He explores how Jesus connected the ancient Jewish commandments to "Love the Lord your God with all your heart, soul and strength" and to "Love your neighbor as yourself" to become the foundation of his ministry.  
In The Jesus Creed, his seminal work, Scot invites followers of Jesus to step back into the world in which Jesus lived and to hear his core teachings like we've never heard them before. And just like his disciples, we discover how praying the Jesus Creed will close the gap between the people we are right now and the people God created us to be.  
In The Jesus Creed, you will:  
Learn about the identities, hopes and struggles of the people closest to Jesus – Joseph and Mary, John the Baptist, Peter, and John 

Discover how Jesus's radical acts of compassion restore those who are marginalized, oppressed, or grieving 

Discover how the Jesus Creed can shape society to grow in justice, faith, and joy 

Discover how the Jesus Creed deepens our love for Jesus, leading to healing, forgiveness and wholeness in our personal lives 
About the Author
---
Scot McKnight has been married for 47 years, a professor for nearly 40 years, and an author of more than 80 books. His books from Paraclete include the bestseller, The Jesus Creed; Praying with the Church; and To You All Hearts are Open.
Praise For…
---
"A rare treat: a biblical scholar of first rank offers the fruit of his own personal study, life experience, and prayerful reflections. Clearly written, eminently practical, and based on a wide range of sage traditions (Protestant, Catholic, and Jewish). One does not have to agree with Scot in all the particulars to see that he has produced a work of real value." —Scott Hahn
 
"Make sure this new guide for living is on your shelf." —Max Lucado
 
"Scot brings us into conversation with Jesus in the places and conditions in which we live our ordinary lives." —Eugene H. Peterson

"Scot has been a kind of secret weapon for my own education and growth. Now he can be yours as well. This book will bring Jesus' world and yours much closer together." —John Ortberg

"McKnight's book first came out 10 years ago. This is an anniversary edition in which McKnight again asks not what the creedal confessions of the Christian church have been throughout its history but, rather, what Jesus' own creed might have been. McKnight reduces that creed to loving God and loving neighbor." —Bill Tammeus, KC Star "Faith Matters" blog